The Best Foraging Books in the UK
Over the past eight years I've read numerous wild food and foraging books, the majority focusing on the UK and Northern Europe but some also from further afield. There was a number of different aspects I found difficult, one book would lack something that another book would have but then that one would lack some other information I thought was important.
For example a pure identification guide like 'British Wild Flowers' is great, but if you've never cooked with these ingredients then you may cook something really bad and ruin your relationship with foraging as a source of food. Others, such as 'the hedgerow cookbook' may have fantastic recipes, but not enough information on how to actually identify the plants.
The most commonly bought foraging guide 'food for free' has elements of both of these areas but is just way too small to contain any detailed information on both subjects so can only be used as an extremely rough guide.
'The Forager Handbook' has both of these elements in abundance with recipes from some fantastic chefs but it's been printed in black and white, making the job of identifying anything from it twice as hard as it should be.
Others just don't provide anywhere near enough information such as 'foraging for wild foods (self sufficiency').
In order to get a good grasp on wild food and foraging I therefore had to buy all of these in order to get a decent overall picture of wild foods, foraging and how to actually cook the stuff. Because of this I decided to make my own book so others wouldn't have to go through as much of the struggles I had to. It explains detailed information on each plant you can forage, potential poisones lookalikes (with detailed information on those also) – how to pick and use it through the seasons and a range of my favourite wild food recipes that include your foraged ingredient. It's simple but provides all of the information that I originally had to pull from different sources. I actually use the book all the time now in order to remember what recipes I might want to cook up from the day's harvest. I'm not trying to sell the book here so if you want to learn more click here. Instead we will continue looking at other guides.
Here's my 6 favourite foraging guides:
The Foragers' Cookbook – A countryside guide
Of course it had to be, but I would be a bit one sided on this one, shortly we will be releasing a coastal guide and a mushroom guide of our own.
Edible Mushrooms by Geoff Dann
By far the best mushroom book I have ever read to date – it gives a foragers perspective of fungi which is unrivalled to someone wanting to learn about edible mushrooms and not just fungi in general. It gives detailed info on how to identify each species, the family and great information on poisoness lookalike (and how to differentiate) The only one thing it lacks on is recipes, but at 528 pages already that is understandable.
The Seaweed Cookbook – by Xi Milne – not the Cornish seaweed company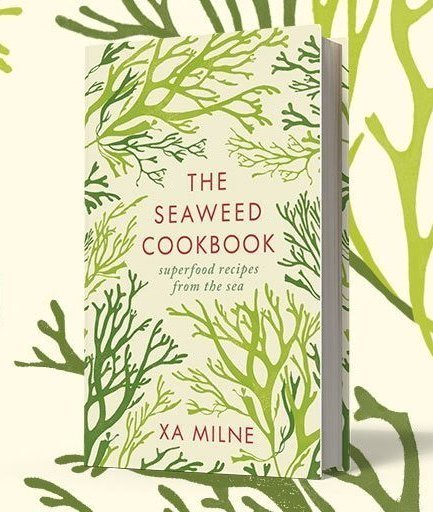 Jem of a book, highlighting how to cook up seaweeds
Booze – River Cottage Handbook
It has some great recipes and information to get you started brewing up your own wild ferments!
An initial guide to the identification of mushrooms and toadstools by Paul Nichol
Although this book is one of the hardest to find online, even I struggle to find it and I know what it's called (and it sells through amazon) it is a brilliant book and definitely required when it comes to the identification of mushrooms down to families. It allows you to follow a number of steps to discover what family the mushroom you've found belongs to. Sadly it doesn't tell you if the family is toxic or edible so a separate book is required but it works perfectly to get you going in the right direction.
Wild Food by Roger Phillips
Nice personal journey through wild food – no need to get the new released version, get the old version, I actually think it feels a little bit more authentic and contains as much good info.
To summarise – there's a whole world of books out there and to be honest the majority of them give fairly generic information – some one actually came on one of my forages and said they'd been on one recently with another forager/author who struggled to identify chickweed when out in the field, which is a little worrying.
I'd always check out the author before believing what's written.
Definitely get a number of good books – the ones mentioned above ideally and use them to cross reference from one another and give you loads of ideas.
Happy Foraging!