Primrose / Spring / Edible 
Primrose is one of the first plants to produce edible wild flowers in spring, our favourite thing is to use them as a garnish or to crystalise them for future use.
---
Common names
Primrose, Common Primrose, Wild Primrose, English Primrose
---
Botanical name
Primula vulgaris
---
Meaning of botanical names
Primula comes from the Latin feminine Primus, in modern English "first". Vulgaris means vulgar or common
---
Known hazards
Contains salicylates, so should be avoided by pregnant women and those on blood thinners. Some people are allergic to this species.
---
Could be confused with
Foxgloves (Digitalis), Comfrey (Symphytum), or Poison Primrose (Primula obconica) before flowering. Therefore, it is best for novice foragers to only pick when the plant is in flower
---
Food plant of
Slugs, mice, birds, rabbits, and deer
---
Range and distribution
Europe, Asia, and Africa
---
Habitat
Woodland, lawns, grassy banks, hedgerows
---
Physical characteristics
---
Leaves
A tight rosette of crinkled rich green long leaves, from which many flower stalks appear.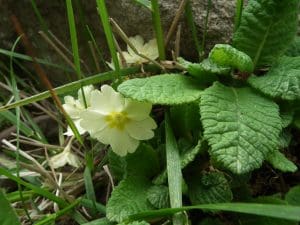 ---
Flowers
The flowers have five petals, and are pale lemon or white, with a deep yellow centre. Hybrids of cultivated varieties with different coloured petals do occur, but these are best avoided.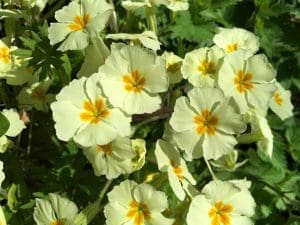 ---
Folklore, tall tales, and not so folklore
A Greek myth describes how the gods turned the youth Paralisos into primroses after he died of a broken heart
---
Edible use
The leaves can be eaten raw or cooked. The flowers can be eaten raw in a salad or made into a cordial if collected early enough. Frosted primrose flowers are popular for use in cake decorating
---
Herbal
The salicylates offer some analgesic and blood-thinning properties. Has also been used as an expectorate, to treat nervous headaches and as a tonic for the respiratory and nervous systems. If you have a medical complaint, please visit your doctor