Sepia Bolete / Summer / Autumn / Edible
Scientific Name
Xerocomellus Porosporus
---
Common Names
Sepia Bolete
---
Family
Boletales
---
Habitat
Most often associated with Oak but can be found growing with any deciduous tree.
---
Description 
An uncommon and quite rare mushroom to find in the UK, they are more common in mainland Europe.
---
Identifying Features:
Cap:
Convex when young, they flattening out as they mature, the caps are olive/brown in colour and covered in a 'crazy paving' type pattern of shallow cracks.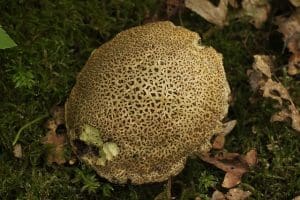 ---
Stem:
The stem overall is light brown in colour, but tends to be more yellow towards the cap with a red band or ring.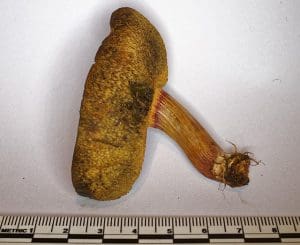 ---
Gills:
Pores rather than gills, they are yellow when young but darken with age and will bruise blue when damaged.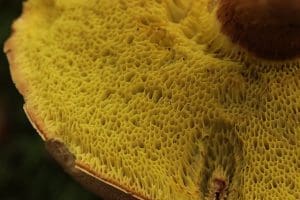 ---
Smell:
Mushroomy.
---
Spores:
Orange/Brown.
---
Uses
In food
They are technically edible but they don't have the greatest texture or taste and as they are quite rare, so they are probably best left alone.
---
Known hazards
None known.
---
Potential lookalikes
Other Bolete's, especially the Red Cracked Bolete (Xerocomellus Chrysenteron), but the red cracked bolete have a completely red stem and tend to show their red flesh through the cracks on the cap.