Salted Caramel & Sweet Chestnut Vodka Recipe
Sweet Chestnuts trees are common throughout the UK and they produce their delicious and nutritious nuts in Autumn, this a really simple recipe and a great way to use any chestnuts leftover from Christmas dinner.
It works well on its own as liquor or it can be added to whiskey cocktails or served with ginger ale.
Click here to identify sweet chetnuts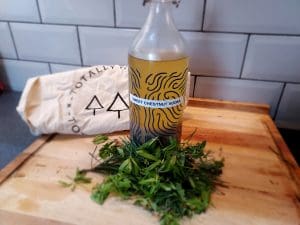 Ingredients for Salted Caramel Sweet Chestnut Vodka
1 LITRE OF VODKA
1 TEASPOON OF SEA SALT
50 GRAMS OF SUGAR
150 GRAMS OF CHESTNUTS (WHEN PEELED)
METHOD
I used fresh chestnuts that's I'd foraged but the recipe would work with precooked and vacuum bagged chestnuts sold in supermarkets. If using precooked you can skip this step. But the first thing to do is to roast your nuts.
Pre heat the oven to 200C/180C fan.
Put each chestnut flat-side down on a chopping board. Hold the chestnut carefully and, using a sharp knife, cut a long slit or a cross in the top. Make sure you cut through the shell but not the nut inside.
Roast for around 20-30 minutes. The slits should open slightly and peel back making them easier to de-shell.
When roasted place in a large bowl and cover with boiling water and leave for 10 minutes. (This step makes them much easier to peel)
Allow to cool slightly and then peel off the shells and tough inner membrane.
Once peeled chop slightly and add to a heavy bottomed saucepan. Add the sugar and cook gently for 5 minutes. You want the sugar to fully dissolve and start to caramelize. Add the sea salt, stir, remove from the heat and cool completely.
Once cooled add to a Kilner jar or large sterilized bottle and top up with vodka, it will be ready to drink after a month but is best left for 2-3 months for the flavours to fully develop.
To serve strain through a fine sieve or muslin cloth to remove the nuts. Don't discard them they have loads of flavour and are great served with vanilla ice cream and birch sap syrup.
You could try it in this Chestnut Martini recipe