With vast open mountains, raised peat bogs, pristine coastlines, ancient woodlands and temperate rainforest there's plenty of habitats to choose from if we want to foraging in Scotland
Then there's our beautiful city parks, which also contain the additional bonus of some truly amazing introduced species with complex, interesting and delicious flavours.
So where do we start.  Firstly, let's have a look at the law and foraging in Scotland.
---
The Law of Foraging in Scotland
This is the same as in England and Wales, namely, we are allowed to collect for our own consumption the four F's; fruit, foliage, flowers and fungi.  We are not allowed to dig up roots without the landowners' permission.
The difference between Scotland and the rest of the UK is that we have the right to roam, which means there is no law of trespass.  That said, there are some restrictions to that, namely we are NOT allowed to roam across agricultural land, on school property or in private gardens.  To read more about Scotland's outdoor access code click on the link below.
https://www.outdooraccess-scotland.scot/
---
So what can we actually find when Foraging in Scotland
At any given time throughout the year, Scotland has something wild for us to eat.
There are seemingly endless miles of pristine Scottish coast and beaches for us to explore.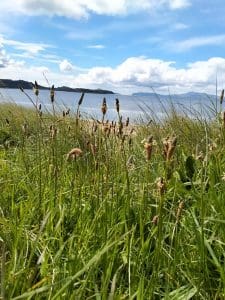 ---
Seaweeds
Seaweeds are a diverse source of wild food with some available all year.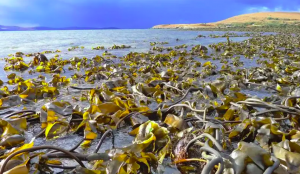 ---
Coastal Foods
There's also the coastal plants which love to grow next to sea, succulents like Sea Sandwort, punchy mustard greens such as Scurvy Grass, mineral dense Sea Kale, super salty Samphire and the amazing Sea Buckthorn whose berries are officially a superfood and leaves are used in tea blends with all sorts of health benefits.
---
Inland and Hedgerow
Head inland and discover the berries and nuts, whether it's Juniper berries or Hazelnuts clinging to the side of exposed hills and mountains, or Elder, Rowan, Sloe, Cherry, Bramble, Hawthorn, Bilberries, Sweet Chestnuts, Beech nuts or Acorns hanging out in the woods and hedgerows from the middle of summer, through to late autumn and early winter.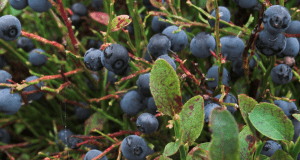 There really is something magical about wandering through a Scots Pine forest with a bucket collecting Bilberries at dawn.
---
Let's not forget our amazing mushrooms.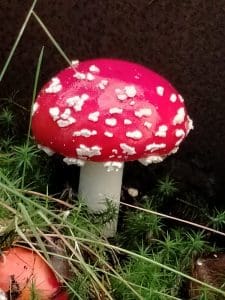 Ancient woodlands and city parks alike provide ample opportunity to meet some delicious fungi friends.  Even the deadly mushrooms are a thing of beauty.
I'll never forget walking through the forest in Argyll and coming across a patch of  Destroying Angel mushrooms, luminescent in a patch of sunlight streaming through the canopy of trees above.  The sight was breathtaking, as indeed they would themselves have been, had I decided to eat them!
---
What about Foraging in the cities in Scotland?
In our city and country parks you'll find fragrant aromatic firs, edible blossoms from plants such as Flowering Currant, Forsythia, Darwins Barbarry, Magnolia and even some plants which you wouldn't expect to find growing inland, such as Sea Buckthorn which is making a surprising showing in several places around Glasgow these days, meaning we don't have to drive to the coast to collect the berries or leaves.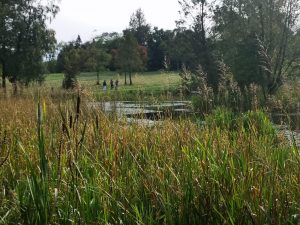 ---
Foraging on the Canals through Scotland
Our network of five canals across the central belt, boasts many habitats, including hedgerows, wetlands with pockets of woodland and herb rich meadows.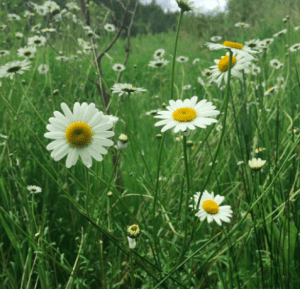 They are a favourite haunt for many local foragers.  They also provide a wonderful opportunity to take a gentle walk across the countryside, with well maintained pathways by Scottish Canals.
---
At Totally Wild we run regular wild food sessions in and around several Scottish cities, including Springburn Park in Glasgow City, Mugdock Country Park in North Glasgow, Muiravonside Country Park just outside Falkirk, Leadburn Community Woodland near Edinburgh and Moffat Community Nature Reserve in the borders and we're constantly looking at new and exciting locations to add to our list.
Why not join us on one of our workshops.  All the dates for our Scottish sessions are over on our events page 
We'd love to show you round this land of the brave and our dear green spaces.