Wood Avens, Spring, Summer, Autumn, Winter, Edible
Wood Avens are one of those plants we walk over and past every time we go through a woodland, it's amazing to learn the roots taste like cloves.
---
Common names

Wood Avens, Clove Root, Colewort, Herb Bennet, and St Benedict's Herb
---
Botanical name

Geum urbanum
---
Meaning of botanical

Geum is derived from the Greek word Geno, which means "pleasant fragrance", while Urbanum means "of the city"
---
Known hazards

Uncertain
---
Could be confused with

Water Avens (Geum rivale), and wild strawberries (Fragaria), but the clove-like scent of the root differentiates from these
---
Food plant of

The Grizzled Skipper Butterfly caterpillar, which eats Wood Avens
---
Range and distribution
Europe, the Middle East and North America
---
Habitat

Found in woodland and garden lawns, particularly in the shade
---
Video
https://youtu.be/clYYewyegCY
---
Physical characteristics of Wood Avens
---
Leaves
Strawberry-like leaves grow in a rosette close to the ground. The leaves gradually turn upwards and the pant produces a tall flower stalk.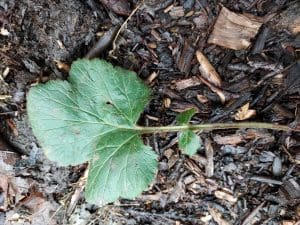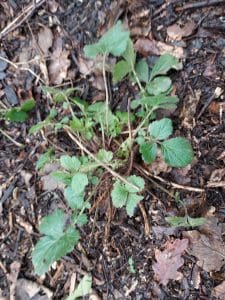 ---
Flowers
The flowers are similar in appearance to those of the strawberry but are yellow in colour.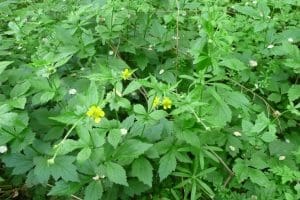 ---
Roots
The roots, when crushed, smell similar to cloves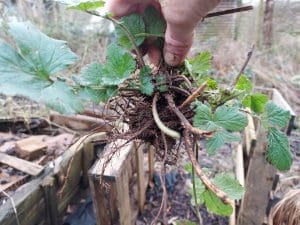 ---
Folklore, tall tales, and not so folklore:
The roots were once used as a protective amulet against evil spirits, snakes and rabid dogs
---
Edible use
The roots are used to flavour drinks, syrups, preserves and stews
They have the flavour of cloves and are quite a shock when you first try them as we've been walking over them all this time.
---
Herbal
Has been used to treat dog bites, liver disease, chest infections, gastric upsets, diarrhoea, mouth ulcers, toothache, halitosis and heart disease.
If you have a medical complaint, please speak to your doctor
References
Here's what the woodland trust has to say