Olive Oysterling/ Spring/ Summer/ Autumn / Not Edible 


Common Names:
Olive oysterling
---
Botanical Name:
Sarcomyxa Serotina
---
Meaning of Botanical Name:
Sarcomyxa meaning slimy flesh, serotina meaning late, referring to it growing late in the season often fruiting after the first frosts
---
Scientific Classification:
Kingdom: Fungi, 
Division: Basidiomycota,
Class: Agaricomycetes, 
Order: Agaricales,
Family: Marasmiaceae
Genus: Sarcomyxa
---
Known Hazards:
Contains carcinogens which could lead to cancerous growth.
---
Could be confused with:
Species of oyster such as the grey oyster (edible), Angel wings is the only one to be wary of as its reported as being toxic – it is porcelain white.
---
Food Plant of:
Insect larvae 
---
Range and Distribution:
Found in Britain and Ireland, as well parts of North America
---
Habitat:
Occurs on dead trees and logs favouring deciduous trees but occasionally found on conifer trees  
---
Physical Characteristics of the Olive Oysterling: 
Cap
Buff brown with olive green tinge caps which have a wavy edge, they're very slimy when wet.
---
Stem
Olive Oysterling Mushrooms have a short off-centre stem or nub
---
Gills
The gills of the Olive Oysterling are yellowish turning brown with age and are decurrent, running from the cap edge all the way down the nub.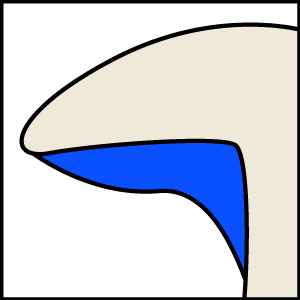 ---
Spores
They have white sausage-shaped spores. They often grow singularly or in small clusters.
---
Edible Use:
Due to the carcinogens, we do not advise eating this mushroom. 
---
Herbal:
There is evidence that extracts from this mushroom can help prevent fatty liver disease.