Elfin Saddle / Summer / Autumn / Toxic
Scientific Name
Helvella Lacunosa
---
Common Names
Elfin Saddle, Slate Grey Saddle,
---
Family
Helvellaceae
---
Habitat
In deciduous, mixed or evergreen forests. Very often on burnt ground.
---
Description 
An unusual looking mushroom, they are very irregular in shape and are often overlooked as they can be hard to spot. One of the 'spore shooters' (ascomycetes).
---
Identifying Features for the Elfin Saddle:
Cap:
Very irregular in shape, they are roughly saddle-shaped and dark grey to black in colour. The upper, outer surface is smooth but the underside is felt like to touch.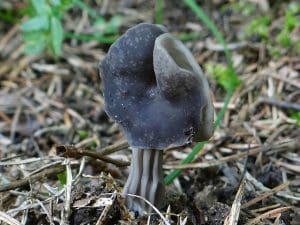 ---
Stem:
Distorted, hollow and fluted, a similar colour to the caps.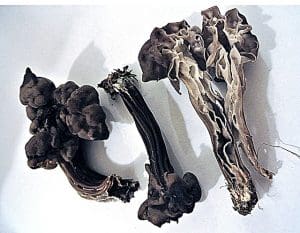 ---
Gills:
They lack gills, the spores are fired from the wrinkled caps rather than dropped from gills.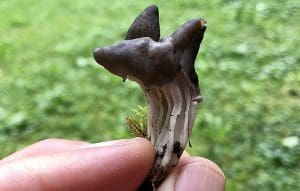 ---
Smell:
No really aroma.
---
Spores:
White.
---
Known hazards
One to avoid really, older guidebooks may list them as edible but other species of Helvella are known to cause stomach upset unless thoroughly cooked, their texture and taste is poor and there are also concerns around their carcinogenic properties. So are they really worth the risk?
---
Potential lookalikes
Other Helvella species most likely the White Elfin Saddle (Helvella Crispa) but as the name suggest this mushroom is white in colour. The Elastic Saddle (Helvella Elastica) could also be confused but again this mushroom is much lighter in colour and has a solid stem.