The Miller / Summer / Autumn / Edible
Scientific Name
Clitopilus prunulus
---
Common Names
The Miller, The Sweetbread Mushroom
---
Family
Entolomataceae
---
Habitat
They are saprotrophic and can be found near deciduous or evergreen trees in woodland clearings, paths and parkland.
---
Description
Definitely not a beginners mushroom, they can easily be mistaken for the deadly poisonous Clitocybe Dealbata or Rivulosa.
---
Identifying Features:
Cap:
Conical when young they flatten out with age. They tend to depend on a central depression and have an inrolled, wavy edge. The colour ranges from pale grey to yellow. When wet they are sticky to touch and they feel like suede or chamois leather when dry.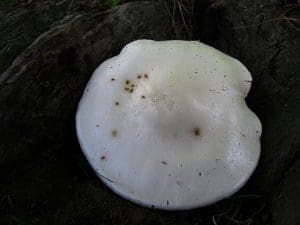 ---
Stem:
Very often the stem isn't central, it's almost as wide as it is long. Roughly the same colour as the cap.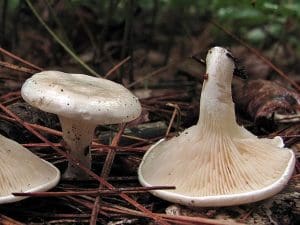 ---
Gills:
The gills are white when young, turning pinkish with maturity. They are deeply decurrent and forked.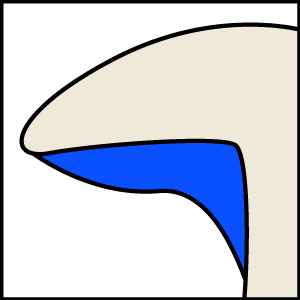 ---
Smell:
The common name comes from its smell, like raw dough or damp flour. For many people they smell more spermatozoidal.
---
Spores:
Pink.
---
Uses
In food
They are edible but I think they taste just like they smell. Some people really enjoy the texture and flavour when cooked and if there's not much else around then go ahead and eat them.
The main reason we'd look for food when finding this mushroom is that it typically signifies the growth of Porcini which is often close by so keep looking for Ceps!
---
Harvesting       
Not massively tasty and as they can be easily mistaken for poisonous species they are best avoided.
---
Known hazards
None known, other than misidentification.
---
Potential lookalikes
There are a few similar looking mushrooms so the time of year they are collected is important.
They can be confused with the St George's Mushroom (Calocybe gambosa) but this appears earlier in the year. (St. Georges day is in April) and is edible anyway.
Clitocybe dealbata and rivulosa can look similar but these are both grassland species whereas the Miller is a woodland species. Both Clitocybe's have white spores and lack a floury smell.