Ladies Smock / All Year Round / Edible
Identification Guide for Ladies Smock
A perennial member of the Brassica family, with a delicious mustardy taste.
---
Common Names
Ladies Smock, Cuckoo flower, Mayflower or Milkmaids.
---
Botanical Name
Cardamine pratensis
---
Scientific Classification
Kingdom – Plantae
Order – Brassicales
Family – Brassicaceae
---
Physical Characteristics for Ladies Smock
Leaves
The plant grows as a rosette. The leaves are compound, pinnate and around 5-12 cm long, made up of 6-15 leaflets.
---
Flowers
The flowers appear on a long, thin spike. They are pinkish to white and arranged in the typical cruciform pattern like other Brassicas.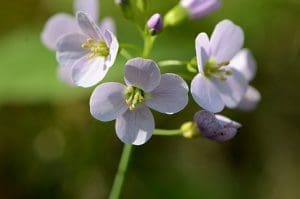 ---
Seeds
The seeds appear after the flowers drop and are long and thin.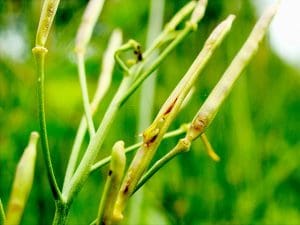 ---
Habitat
They seem to prefer damp ground and can be found in ditches, river banks, hedgerows and parks.
---
Known Hazards
None known.
---
Could be Confused with…
It could be confused with other Cardimines but they are all edible.
---
Edible Uses
All of the aerial parts are edible and can be used raw as a substitute for rocket or cooked like spinach.
---
Notes on Herbal Uses
Traditionally a tea made from the leaves was used as a springtime tonic or for menstrual issues, for example, to treat a heavy period.
---
Extra notes from the Foragers
The common name Cuckoo Flower refers to the time of year the plant flowers in early spring the same time that cuckoo's appear.