This Sorrel and Raisin Walnut Tart recipe utilises the sharp flavour of sorrel and creates something beautiful.
With a sharp citrus flavour, which many people describe as a green apple flavour, this little green leafy plant was traditionally used to add sharpness to dishes, before we had access to lemons.  Great in salads, soups, sandwiches, sorbets or desserts like this one.  The added bonus is it's available to gather year round.  It's also been used as a medicinal herb for centuries too, including the ability to improve eyesight, slow the ageing process, reduce skin infections, strengthen the immune system, improve digestion, build strong bones, increase circulation, increase energy levels, lower blood pressure, increase appetite, protect against diabetes, strengthen heart health & improve kidney health. I think you'd have to agree that's a pretty impressive powerhouse of health benefits.
A word of caution though, the phytochemical that gives Sorrel it's sharp tangy flavour is oxalic acid, so shouldn't be consumed in huge amounts and if you suffer from kidney stones, it's best avoided altogether.
This is a vegan version of the classic Canadian butter tarts.  Mouthfuls of crisp short crust pastry with sweet caramel raisins, crunchy buttery walnuts and sharp zesty Sorrel, this dessert will not disappoint.  If you don't like raisins, you can use apples instead, but choose a variety that won't release too much liquid, or you'll end up with a soggy bottom!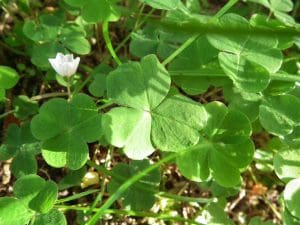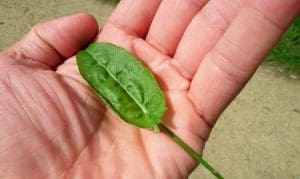 ---
Ingredients
1 pack of ready-made short crust pastry or if you want to make your own, there are plenty of recipes online.
½ a cup of raisins/chopped apple
¾ of a cup of brown sugar
¼ of a cup of vegan butter, melted
½ a cup of chopped Common Sorrel leaves
1/3 of a cup of chopped Walnuts
3 tablespoons of plant-based milk
2 ½ tablespoons of corn flour
½ a teaspoon of vanilla extract
---
Equipment for Sorrel and Raisin Walnut Tart
 A rolling pin
A six hole muffin tin
A medium sized mixing bowl
A tablespoon
A teaspoon
Measuring cups
---
Instructions
Pre heat your oven to 170 degrees Celsius/gas 5.
Lightly oil your muffin tin.
Roll out your pastry as thinly as possible and cut out 6 circles.  Fit the circles into the wells of your muffin tin.  Don't worry if the edges are a bit wrinkly, rustic is good.
Place your tin into the fridge to rest for an hour.
After an hour place the rest of your ingredients into the mixing bowl and beat together until smooth and creamy.
Divide the raisins/apples equally between the pastry cases and then divide the butter sugar mixture equally between them.  You could also top each tart with a whole walnut, but this is optional.
Bake in the centre of the oven for about 20 minutes.  The filling will be bubbling and foamy when they come out of the oven. Leave them to cool in the tin completely before removing.  You may have to run a palette knife around the edge of each tart to remove them from the tin.
These are delicious served with a dollop of plain soy yoghurt, which complements the sweetness of the tarts beautifully.
Recipe credit: @thelittlesourdoughbakery