This Elderflower lemonade has A zesty flavour that will cleanse your palette, refresh and hydrate your body and a hot summers day, perfect at a BBQ or when you have friends over.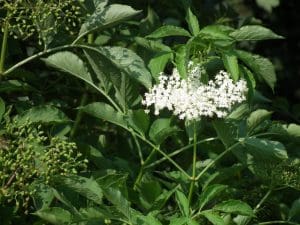 ---
Ingredients per 1ltr or Elderflower Lemonade:
50g Caster Sugar
2 Lemons
4 Big Elderflower Heads
1 teaspoon salt
1 litre Water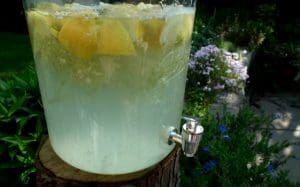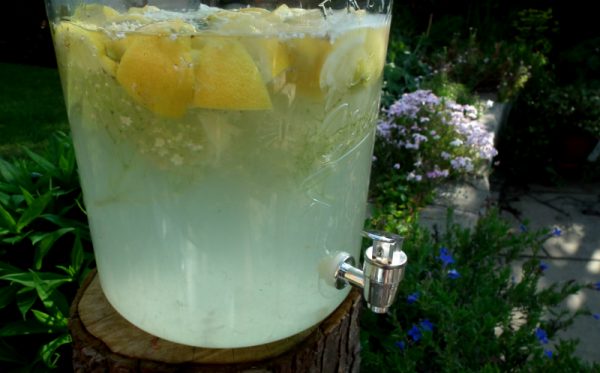 ---
Method for Elderflower Lemonade:
Chop the lemon and squeeze them in to a jug – chuck in the remaining lemons as well
Pour the sugar and salt into your jug (it sounds weird putting salt into a sweet lemonade but trust it really makes all of the difference – I sometimes even add more)
Pour in half the water and stir vigorously until the sugar has dissolved
Add the elderflower head (whole) and stir
Add the remaining water
Stir and serve with ice
---
View all of our Elderflower & Elderberry Recipes here
Other Edible uses
Leaves: Herbal use as a strong anti-viral (can cause nausea and vomiting)
Immature flower buds: Pickling, Lacto fermenting
Flowers: Cordial, Sparkling Wine, Tempura, Tea, Ointments

Fruit: Best heated, Wine, Syrups, Juice, Fruit Leather, Cordial, Beers, Ketchup, Chutney, Jam, Frozen in Desserts
---
Herbal
The flowers are still used by herbalists now to aid inflammation within the respiratory system, including asthma, coughs and hay fever.
The berries are commonly used and stored within syrups, jams, wines and juices to give a boost of vitamins and minerals throughout the winter months, helping to ward of the common winter ailments.
---
Miscellaneous
If you cut a branch from this tree the inside or pith can be pushed out fairly easily, using a tent peg or other hard piece of wood, this hollow wood can now be used for loads of things. Making jewelry, beads, pennies, snakes, whistles and even blow darts