Dark Bolete/Summer/Autumn/Edible
Scientific Name
Boletus Aereas
---
Family
Boletus
---
Habitat
These are rare in the UK and would more likely be found in the south of England. Commonly found at the edges of woodland, beside walks or in clearings in oak and beech woodlands.
---
Description
The Dark Bolete, also known as the Queen or Bronze bolete. It is on par flavour wise with the holy Cep/Porcini. The flesh of this Bolete is somewhat firmer than the Porcini but is in no way second to it!
Identifying Features:
---
Cap:
Ranging from 7-20cm in size they are dark brown and slightly downy becoming cracked with age.
---
Stem:
A fine brown net pattern or reticulation is visible on the pale brown background of the stem surface, darkest towards the apex and at the base and usually somewhat paler and pinker near the swollen centre of the stem.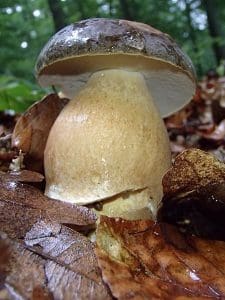 ---
Pores:
White or pale cream, becoming bright sulphur yellow at maturity
---
Smell:
Earthy scent with deep mushroom.
---
Spores:
Olive to brown
---
Uses
Should be treated as you treat a good Porcini. Could be added to meals to add an excellent fleshy mushroom and umami taste. You can dry this as well as Porcini and use it to create a rich mushroom stock and add flavour to dishes.
---
In food
Use as an ingredient or dry and use to make stock or powder.
---
Harvesting
From August to October you can find this Bolete in open Oak and Beech woodland. They can be large so you should not need a huge amount!
---
Known hazards
none
---
Potential lookalikes
Brown Birch bolete however check the stem and if it has dirty black brown scales then is is the brown Birch bolete. This is still an edible Bolete however does not have such a good flavour and also must be cooked thoroughly.