Lurid Bolete / Summer / Autumn / Edible
Scientific Name
Suillellus Luridus
---
Common Names
Lurid Bolete,
---
Family
Boletaceae
---
Habitat
Mostly in association with beech, birch and oak but can sometimes be found in coniferous woodlands. More often found on calcareous soils.
---
Description 
Although a tasty mushroom care should be taken as it can be hard for beginners to tell it apart from some of its toxic look-a-likes.
---
Identifying Features:
Cap:
The caps can be quite variable, some are pale yellow whilst others are almost red/brown. They are velvety when young but become smooth with age.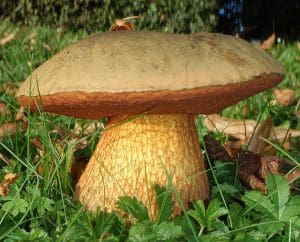 ---
Stem:
Yellow/Orange in colour, covered in a red/orange mesh pattern. The stem will discolour when cut, it will change deep blue towards and cap but will be red nearer the base. There is often the same red colour evident between the cap flesh and the pores.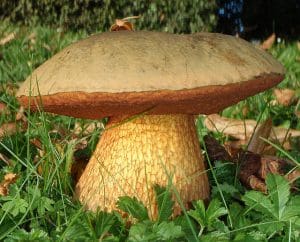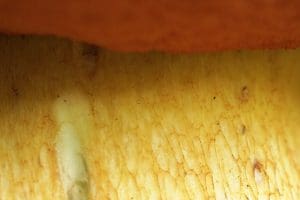 ---
Gills:
They have pores instead of gills which are yellow/orange in colour when young, they become more reddish with age and will stain dark blue/black when damaged.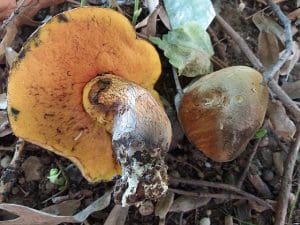 ---
Smell:
Mushroomy.
---
Spores:
Olive green/brown
---
Uses
In food
A lovely tasting mushroom, very similar to the Penny Bun (Boletus Edulis). The flesh will lose any blueing when it is cooked.
They must be thoroughly cooked before consumption and alcohol should be avoided.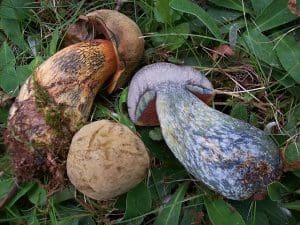 ---
Harvesting                       
Not a beginners mushrooms as it has many toxic look-a-likes and breaks the "red and blue makes you spew" rule.
---
Known hazards
When consumed with alcohol, the Lurid Bolete has been known to cause adverse reactions similar to those caused by the compound coprine which is found in the Common Inkcap mushroom. Studies are still ongoing into why this occurs.
---
Potential lookalikes
There are many mushrooms that can look similar so care should be taken.
The poisonous Oldrose Bolete (Boletus Rhodopurpureus) has many similarities with the Lurid Bolete but will never have the red line between pores and cap flesh, it is also very rare.
The Devils Bolete, (Boletus Satanas) is the most toxic possible confusion. But this also never has the red line that appears between the cap flesh and the pores of the Lurid Bolete, the flesh has a less intense blueing and it won't have the red flesh at the base of stem.
There are also some edible look-a-likes such as the Scarletina Bolete (Neoboletus Praestigiator) but this has red dots on the stem rather than a mesh like pattern.
---
Extra Notes
Studies have shown that when paired as a mycorrhizal partner with seedlings it increases the seedling's survival rate, augments its height and ground diameter, and increases the chlorophyll content in the leaves.