Larch Bolete / Summer / Autumn / Winter / Edible
Scientific Name
Suillus Grevillei
---
Common Names
Larch bolete, Greville's Bolete.
---
Family
Boletales
---
Habitat
Mycorrhizal with Larch tree's. They can appear in arcs or fairy rings.
---
Description 
A fairly common, easy to identify mushroom.
---
Identifying Features for the Larch Bolete:
Cap:
Bright yellow when young, darkening to an orange/brown colour with age. Bell shaped when young they can flatten out as they get older, the cap surface is slimy or sticky.
---
Stem:
Quite slender when compared to other Bolete's, the stem is a similar colour to the cap but covered with fine brown scales. When very young the pores are covered by a fine web like veil, as the cap expands this breaks free leaving the skirt.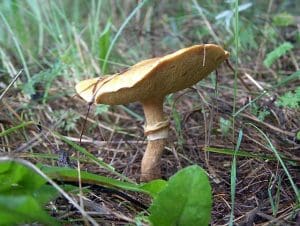 ---
Gills:
Pores rather than gills, they are bright yellow and may bruise darker when they are damaged.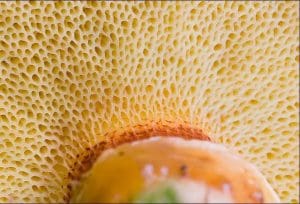 ---
Smell:
Mushroomy and pleasant to me but some do say they smell like Geraniums.
---
Spores:
Ochre.
---
Uses
In food
They do tend to hold a lot of water and can be a little slimy, they are best dried before use.
---
Harvesting                       
An easy to identify mushroom but not highly regarded, they can be found in quite big numbers in and around Larch tree's.
---
Known hazards
The slimy cap surface and the pores are best removed before consumption as these have been known to cause stomach upsets in some. They must be cooked before consumption.
---
Potential lookalikes
An easy, safe mushroom for beginners, when they are fully grown the Bovine Bolete (Suillus Bovinus) would be the only similar looking mushroom, this lacks the skirt on the stem and is also edible.
When they are young and the pores are covered by the veil, some of the Webcap family (Cortinarius) can look similar.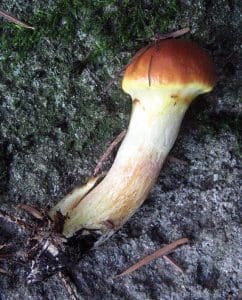 ---
Extra Notes
The common name Grevilles Bolete comes from the Scottish botanist/mycologist Robert Kaye Greville (1794 – 1866).