Purple Russula/Summer/Autumn /Edible
Scientific Name
Russula Atropurpurea
---
Family
Russulaceae
---
Habitat
Mixed woodland, particularly Oak and Beech.
---
Description
Russula atropurpurea is quite a large mushroom and very common. The centre is almost black, with a purple region near the rim, which gave it its former common name of Blackish-purple Russula. This mushroom is one of the most common brittlegills in Britain and Ireland.
---
Identifying Features for (add name of species):
---
Cap:
It is a dark red wine colour with purple to almost black in the middle. Starting convex,
---
Stem:
White becoming off white/ grey with age. Should snap a bit like chalk.
---
Gills:
Adnexed gills white/cream, neat, brittle and slightly connected to stem. Crowded when young.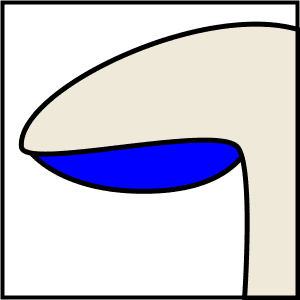 ---
Smell:
Smell is sweet and fruity. Taste can be fairly mild but more often moderately hot and chilli like, in particular in the gills. This mushroom MUST be cooked.
---
Spores:
Off white to cream 
---
Uses
This edible mushroom can be used in cooking but must be cooked properly.
---
In food
This edible mushroom can be used in cooking but must be cooked properly.
---
Harvesting
Found in mixed broad leaf woodland between August and November.
---
Known hazards
Must be cooked to be eaten. Other red/ purple Russulas could be confused with this  mushroom.
---
Potential lookalikes
other red/ purple Russula such as The Sickener ( R.emetica) and the Beechwood Sickener ( R.Nobilis)
Follow the four step Russula identification process:
-Snap – Does the stem snap like a piece of chalk?
-Flick – Do the gills break when you flick them gently?
-Peel – Does the skin on the cap peel away?
-Taste–  this should only be done when you have gone through the other steps and are confident that you have a Russula. If a tiny amount placed on the tongue a chilli like burn or tingle means the mushroom is poisonous but a pleasant mushroomy taste means it is edible.