GUELDER-ROSE SHRUB SYRUP
The Guelder-Rose (Viburnum Opulus) is a common native shrub, the common name refers to the Dutch province of Guelderland where a popular cultivar was developed. In the UK it's one of the key indicators of ancient woodland but it's most often found planted in parks and gardens.
The berries are mildly toxic when raw so they must be cooked before consumption. Don't be put off by the smell, they do have a 'wet dog' sort of aroma when they're cooking but this will disappear.
This syrup is lovely just diluted with sparkling water or drizzled over ice cream. It's also a great addition to a gin or vodka-based cocktail.
It's a dead easy to follow the recipe that can be scaled up if needed. It's basically 3 parts fruit, 2 parts sugar, 1 part cider apple vinegar.
Recipe for Guelder rose shrub syrup
3 cups of berries
2 cups of white sugar
1 cup of raw apple cider vinegar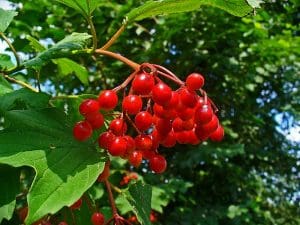 METHOD
Put the berries into a heavy-bottomed saucepan, cover with cold water and heat slowly for around 10 minutes or until the berries are tender.
Stir in the sugar and gently warm to ensure it is all dissolved.
Take the mixture off the heat, add the vinegar, stir well and then allow to cool.
When cooled pass through a sieve or a muslin cloth to remove any seeds and skin.
Dilute the syrup roughly 3-1 with sparkling water and serve.
Stored in a sterilized bottle in the fridge the syrup will last around 4 weeks.