Some of the Most Deadly and Toxic UK Mushrooms
Sometimes learning the most deadly plants and fungi is a good starting point, if you can avoid them you'll stay safe.
This blog post is supposed to instill a little fear in the learning and budding forager, but only in so much that we all understand the risks and are respectful and wary of what we're doing as foragers.
Mushrooms in the UK are something that we're not very well accustomed to, I remember specifically from when I was younger that mushrooms you can look at and enjoy but that's as far as you should go, touching or picking one up was even something that wasn't advised. We thought maybe the toxins could enter straight through the skin and kill us dead, right there on the spot – so we must quickly wash our hands.
As professional foragers, we're now trying to educate people on the wonders of the wild world and all things edible, medicinal and useful through our foraging courses. Part of this is, of course, Wild Mushrooms. Whilst we're out it's as important, if not more important, to learn about the common toxic species we'll come across as well as the deadly toxic species and potential toxic lookalike species we'll often find when out hunting for those edible gems.
So here are eight mushrooms that every forager should either be familiar with or should definitely get familiar with:
Our top 8 Toxic UK Wild Mushrooms
---
Sulphur tufts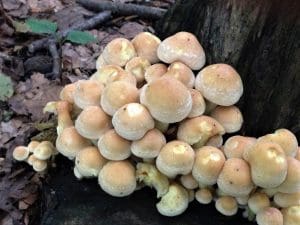 not the most toxic but they are so, so common that cases of poisoning do occur. I find this mushroom nearly every time I head to walk through any woodland. I've even looked at potential ways of making this mushroom edible through boiling, salty and fermenting – to no luck.
Click here for a full ID guide on Sulphur Tufts
---
Brown Roll Rims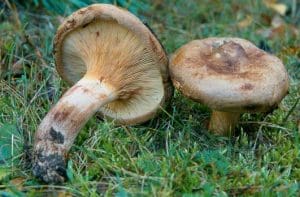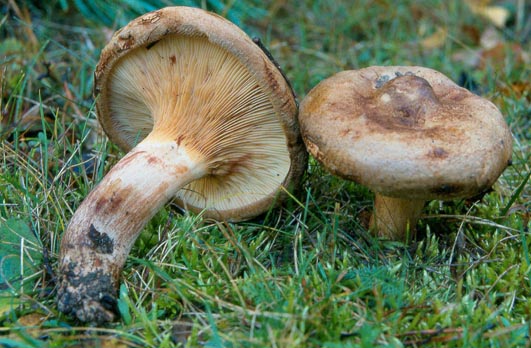 Brown roll rims – a very common mushroom, they are eaten in some parts of the world but are considered toxic in the UK and are potentially deadly. The toxins cause your immune system to attack red blood cells.
For a full ID guide on Brown Roll Rims Click here
---
Panther caps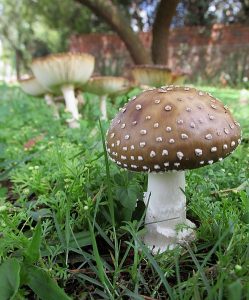 listed as being deadly in lots of guides, they contain psychoactive compounds similar to Fly agarics (muscarine) and consumption can be fatal. Symptoms include severe vomiting and diarrhoea.
Click here for a full ID guide on Panther Caps
---
Funeral
 bells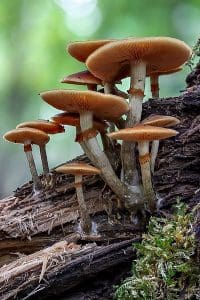 As the name suggests one to avoid as it contains the same toxins as the Death cap.
Click here for a full ID guide on Death Cap Mushrooms
---
Death caps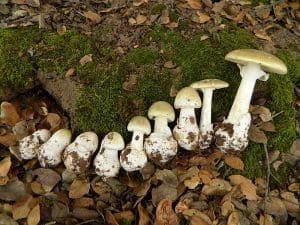 The most toxic mushroom found in the UK, with no known antidotes. They contain the compound A-amanatin which kills liver cells. The symptoms of severe vomiting, diarrhoea and abdominal pains start several days after consumption, these can last several days after which you appear to make a full recovery before dying a few days later of organ failure.
Click here for a full ID fuide for Death Cap Mushrooms
---
Destroying Angels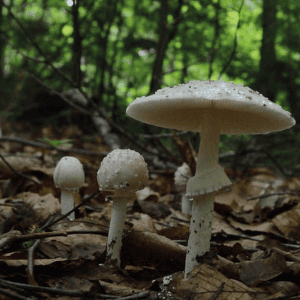 Very similar to the Death cap in the way that this mushroom kills you. There's a couple of species of woodland living agaricus species that I imagine, when they're very young, people may have confused this mushroom with. I could also think for a beginner, when this mushroom is REALLY small and still in it's sack it has the potential to be confused with one of the puffballs – although on cutting it in half you would see there's a baby mushroom in there not just white flesh.
For a full ID guide on the Destroying Angel Mushroom Click here
---
Deadly fibre caps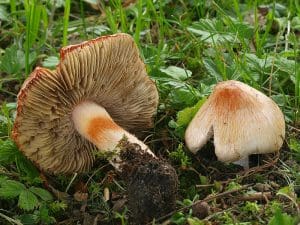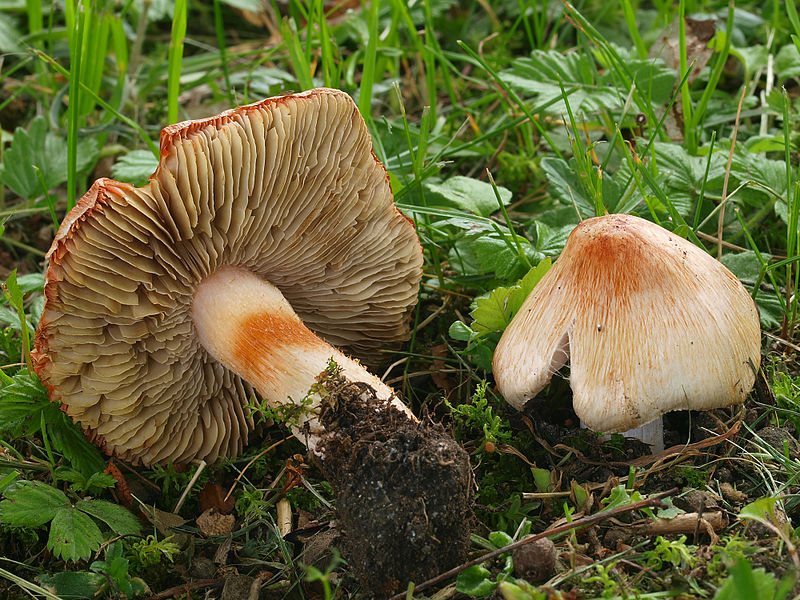 The Deadly Fibre Cap Contains a deadly amount of the toxin muscarine which causes gastric upsets, excessive sweating, slower heart rate and can lead to death. This mushroom grows in spring and the only thing you could potentially confuse it with is a St Georges Mushroom (ID guide here for St Georges Mushroom) and this would only happen when the deadly fibre cap is young and has white gills still.
Click here for a full ID guide on the Deadly Fibre Cap Mushroom
---
Angel wings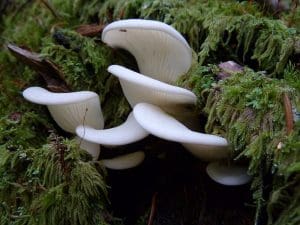 Although once considered edible they are known to have caused fatalities in Japan and should therefore be considered deadly poisonous. An incident of Angel wing poisoning involving 59 people occurred in Japan in 2004 leading to the death of 17 people. The precious nature of how the toxins affect us is still unknown. This mushroom, without a doubt, will have been picked in the past mistakenly for an oyster mushroom. The key is that Angel Wings Mushrooms are pure white and almost ghostly in appearance. (Our Oyster Mushroom ID guide can be found here)
For a full ID guide on Angel Wings Mushrooms Click here
---
Yellow Stainer Mushroom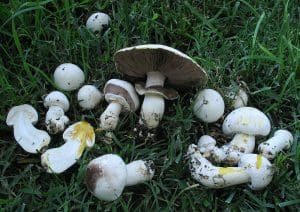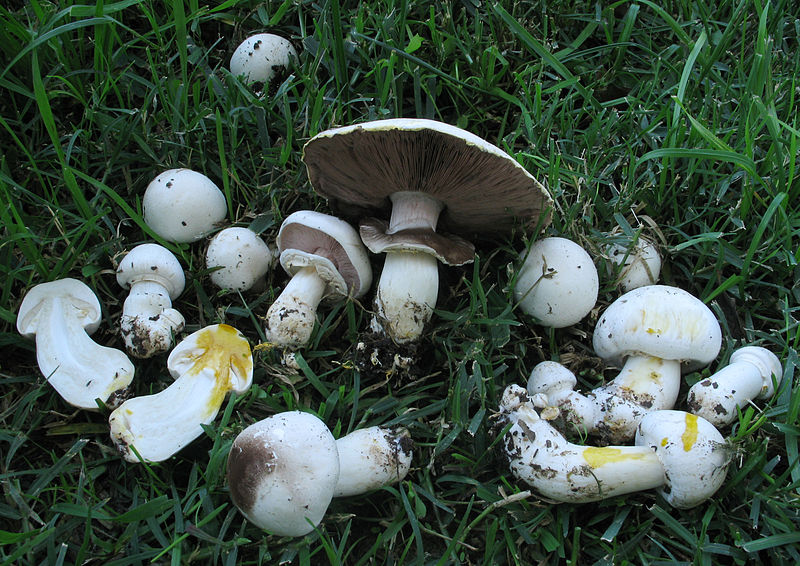 In no way is this mushroom the most deadly toxic in the UK, however we've included as this mushroom is the main culprit for poisonings in the UK. It's often picked mistakenly for other species within the Agaricus family. You can learn more on this family of mushrooms here.
---
Well that just about summarises the most toxic and deadly mushrooms found growing throughout the UK – if you can think of any others then please let us know and we will add them to this list 🙂 You can get in touch here
The key takeaways for me are:
Any mushroom with a Volva (growing from a sack) and having a skirt on the stem then be wary (Amamitas)
During spring don't just think a white mushroom is a St George – always check it against Deadly Fibre Caps
Check Any Oyster Mushrooms against Angel Wings
Check any small mushrooms with a stem and gills, growing off wood, against funeral bells and sulphur tufts
We hope this guide helps,
If you'd like to learn more hands-on you can join us on one of our foraging courses 🙂