Funeral bell Mushrooms (Galerina Marginata) Identification
Toxic.
Common names
Funeral bells, Deadly Skull caps
---
Botanical name
Galerina Marginata
---
Meaning of Scientific classification
The name derives from Galerina meaning helmet-like and Marginata meaning bordered in reference to the generally lighter margin edge when compared to the cap centre.
Class: Agaricomycetes
Order: Agaricales
Kingdom: Fungi
Division: Basidiomycota
---
Could be confused with:
Velvet shanks (velvet shanks have a velvety stem and lack the skirt), Wood tufts (Very similar in appearance making the wood tuft unsafe to forage for)
---
Distribution
Fairly common in the UK.
---
Key features and habitat of

Funeral Bell

mushrooms
These mushrooms contain the same toxins as Death caps so are potential deadly, therefore it's a good mushroom to learn and avoid.
---
Cap
Caps are 1- 8 cm across and generally have a central umbo or nipple, with age the caps expand and almost flatten out. The caps and orange-brown to yellow-brown, generally lighter towards the edge.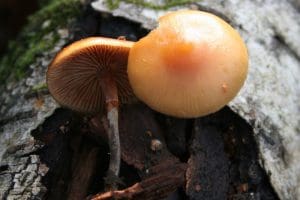 ---
Gills
The gills are crowded, attached and are pale brown to yellow-brown in colour.
---
Stem & Skirt
Stems are 2-8 cm in length, lighter at the top and almost black at the base. The stems have a small ring towards the top but this may be nonexistent in older specimens.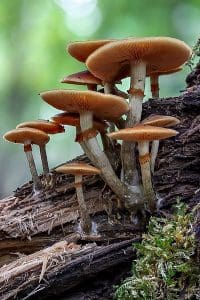 ---
Spore Print
Brown & Ellipsoid
---
Season
They can be found virtually all year round but are more common in spring and autumn
---
Habitat
They are found on rotting logs and woodchip either evergreen or broadleaved species.
---
Edible uses
This is a seriously toxic mushroom and should not be consumed.