Nettle Cordial Recipe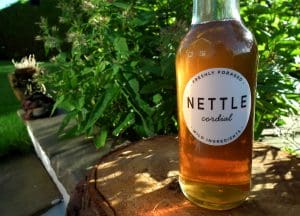 Our Nettle Cordial Recipe is a surprising use of nettles and it will leave you amazed by the flavours that can be achieved from the prolific weed that is stinging nettles.
I promise it won't sting and in fact I bet you'll soon be running off to your nearest nettle patch with a set of marigolds pulled up to your elbows. (marigolds are our preferred implements for safely and sting-free picking of the stinging nettle)
---
Ingredients:
– 200g nettle leaves
– 500g caster sugar
– 4 Squeezed Lemons or 4tblsp lemon juice
– 500 ml water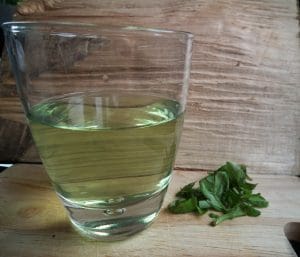 ---
Recipe:
– Boil nettles in water for 15 minutes
– Strain
– Add lemon juice and sugar and heat on low until sugar is dissolved
– Bottle into sterilised bottles and enjoy
---
Click here for our full nettle foraging guide
Physical Characteristics of Nettle
The stinging nettle is a herbaceous perennial, growing back yearly. Typically groups of male and female plants grow separately. It has widely spread rhizomes that are bright yellow along with the roots.
---
Stem
The stem grows from 1-2m tall through the summer and dies down to ground through the winter, it's hollow, ribbed and houses many fine hairs and stinging needles.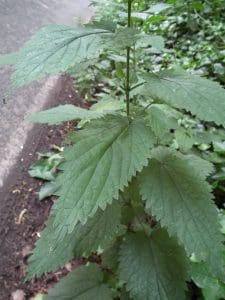 ---
Leaves
Leaves are pale green, turning darker throughout the year – they have a wide base and a pointed tip with a heavily serrated margin, growing from 3-15cm and are placed oppositely up the stem.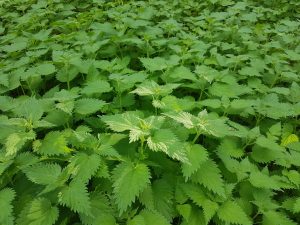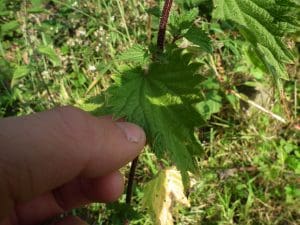 ---
Flowers & Seeds
It bears very small flowers in densely packed axillary inflorescences.