Heath Waxcap / Summer / Autumn / Winter / Edible
Scientific Name
Hygrocybe / Gliophorus laetus
---
Family
Hygrophoraceae
---
Habitat
This mushroom is found mainly on heaths with short grass and moss present.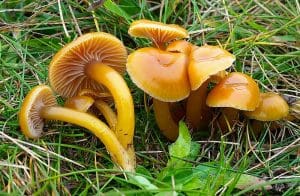 ---
Description
A small and slimy waxcap growing mainly in open heathland. The pale orange-brown colour of this waxcap is the most common variation found in the UK however there is a paler yellow heath waxcap that is less common to find but is found in the same sort of habitat as the common variety.
---
Identifying Features for Heath Waxcap:
---
Cap:
The cap is pale orange to brown. Starts of convex but soon flattens out. The cap develops clear lines on the top that run in line with the gills.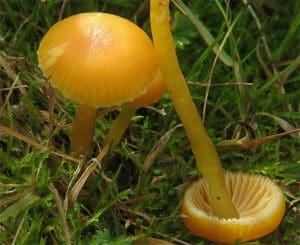 ---
Stem:
The stem is pale orange and goes pinky-red towards the top as the mushroom ages.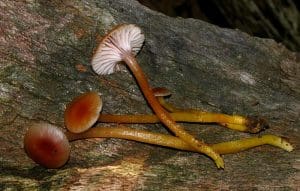 ---
Gills:
Pale grey/off white to start with then turning salmon pink. Decurrent and widely spaced with tiny 'gills' or veins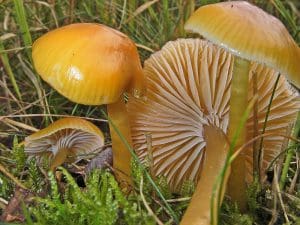 ---
Smell:
this will have a mushroomy smell and can have a burnt rubber smell present as well.
---
Spores:
White spores.
---
Uses
This Mushroom is edible but can be a little slimy and therefore not what you may want to eat.
---
In food
this mushroom is edible however the slime on the outside of the mushroom can make it unpalatable to some and quite difficult to harvest. slimy mushrooms can often make whatever food they are cooked in slimy as well.
---
Harvesting
Found on Heathland from August through to November.
---
Known hazards
This mushroom is quite slimy and therefore can be difficult to harvest and unpleasant to eat. Also Waxcaps are becoming rarer in the UK due to habitat loss so it is often best to leave them to grow in peace.
---
Potential lookalikes
The Meadow Waxcap can look similar but is a bigger, more robust mushroom and generally drier feeling than the Heath Waxcap