Meadow Waxcap / Autumn / Winter / Edible
Scientific Name
Hygrocybe/Cuphophyllus pratensis
---
Family
Hygrophoraceae
---
Habitat
Grassland and pasture. Grows in groups or troops or sometimes individually.
---
Description
A nice common mushroom found in late autumn and winter it as the name suggest grows in meadows. It is thought of as the best of the Waxcaps as it has a good mushroomy taste and thick substantial flesh. A light in the dark of winter foraging!
---
Identifying Features for Meadow Waxcap:
---
Cap:
Orange to buff in colour the cap is convex to flat sometimes having upturned edges with a wide umbo (nipple)  and thick flesh.  A bit waxy looking and feeling.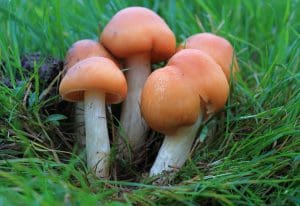 ---
Stem:
Off-white. Stout and tapering slightly towards the base.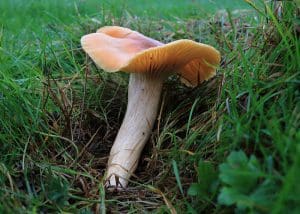 ---
Gills:
Gills cream to orange/straw coloured. Thick waxy and running down the stem (decurrent) . Quite widely spaced. There are veins or very small gills running at right angles between the main gills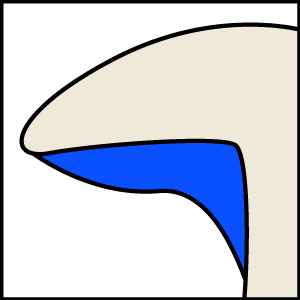 ---
Smell:
Mushroom odour but the best tasting Waxcap.
---
Spores:
Off white to cream
---
Uses
A great edible so use in dishes calling for mushroom or to add a great flavour to stocks and stews. 
---
In food
As this is the best tasting waxcap, it is a great addition to meals but is also great on toast as a winter mushroom treat!
---
Harvesting
Found between September and December in grasslands or meadows often in groups but sometimes singly.
---
Known hazards
None 
---
Potential lookalikes
This mushroom has no potential lookalikes and is safe to eat so long as you follow its identifying characteristics carefully.