Mallow / Spring / Summer / Autumn / Edible
A common hedgerow plant. It can be found in many areas of the world. It's non-native to the UK and was most likely introduced by the Romans.
---
Common Names
Mallow, Round Dock, Common Mallow, High Mallow, Cheeses, Custard cheeses, Fairy cheeses, Lady's Cheese and Truckles of Cheese.
---
Botanical Name
Malva sylvestris
---
Scientific Classification
Kingdom – Plantae
Order – Malvales
Family – Malvaceae
---
Physical Characteristics for Mallow
Leaves
The leaves are roughly round to pentagon in shape, they have 5 lobes and are rather crinkly, and they are hairy and are around 5-10cm in diameter.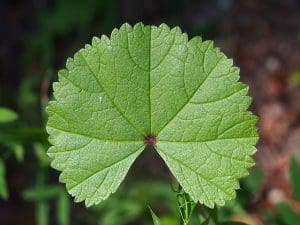 ---
Flowers
The flowers are pink to purple in colour with darker stripes running along their length. They are roughly trumpet shaped and have 5 petals.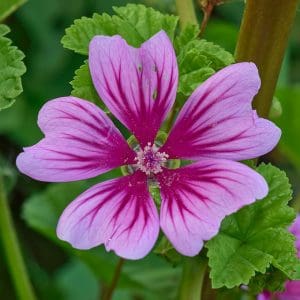 ---
Fruits
The seeds are known as 'cheeses' and are shaped like a wedge of cheese. Together the seeds look a little like a trivial pursuit counter.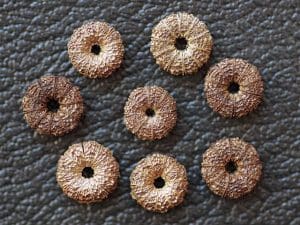 ---
Habitat
Most often its found in hedgerows and on disturbed ground.
---
Known Hazards
None known
---
Could be Confused with…
Some geranium species can have similar looking leaves but they will have a strong, herbal smell when crushed. Mallow lacks any real smell. The flowers look quite different too.
---
Edible Uses
The leaves when young can be added to salads, when they get older and tougher they can be cooked as a leafy green. The leaves will puff up and go crispy, a bit like prawn crackers when deep fried to add texture to meals.
The 'cheeses' have a lovely nutty flavour and can be eaten raw straight off the plant or added to pestos for example.
The flowers don't have much flower be can be used as a garnish or to brighten up salads.
---
Notes on Herbal Uses
The leaves and seeds are high in mucilage and have been traditionally used to treat inflammation.
The leaves are also used to treat external wounds as a poultice.
Teas made from the seeds can be used to form a soothing film over a mucous membrane, relieving minor pain and inflammation of the membrane.
---
Extra notes from the Foragers
The leaves and seeds can be used for dying, they produce a yellow to green coloured dye.
In Jewish culture it is considered one of the most important wild plants and its common name in Hebrew and Arabic translates to 'bread'.
---
Resources
https://www.wildlifetrusts.org/wildlife-explorer/wildflowers/common-mallow
https://www.plantlife.org.uk/uk/discover-wild-plants-nature/plant-fungi-species/common-mallow-malva-sylvestris
https://www.permaculture.co.uk/readers-solutions/benefits-common-mallow-malva-sylvestris