This Dandelion Flower soda is a simple fermented drink that has a flavour a little like a sparkling honey lemonade.
Some people describe it as tasting a bit like sunshine in a bottle and to be honest I think I'd agree – it has a beautiful milky yellow colour and can be used directly as it is, chilled on ice or can be mixed in to a summery cocktail – I like to add it instead of soda in to a mojito!
---
Ingredients
In a 500ml bottle add :
30g sugar
a tiny bit of wine yeast
400ml water
10 fully open dandelion flowers (best picked in the morning for most flavour)
the juice of half a lemon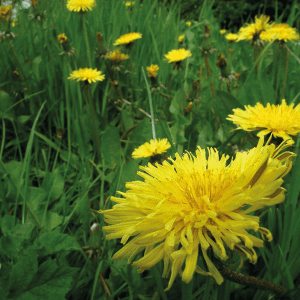 ---
Method for making Dandelion Flower soda:
Then shake well to let them all mix,
Leave it somewhere warm from 4 days (make sure to open and close it in the morning and evening to release some gas)
Then pop it in the fridge and serve chilled or with ice.