This japanese knotweed & ginger jam recipe is a retake on the classic rhubarb and ginger jam, and as expected the flavour combination is absolutely perfect. You can marinade salmon with it, enjoy it in cocktails or have it simply spread on toast.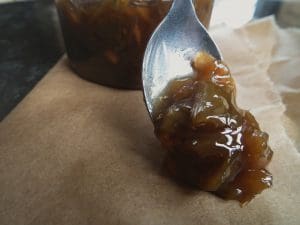 Makes 3-4 medium jars
---
Ingredients:
800g young knotweed stems chopped in to 1cm pieces
1kg jam sugar
1 lemon, juice and zest
1 Thumb sized piece of ginger, skinned and finely chopped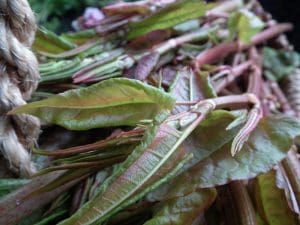 ---
Method for our Japanese Knotweed & Ginger Jam Recipe:
Place all the ingredients in a large bowl, mix thoroughly and allow to sit, covered, for 1hour
Place the mixture in a large pan over medium heat for 10-15minutes, until the knotweed has softened.
Turn the heat up to high and let it boil vigorously until the setting point has been reached.
To test this put a small plate in the fridge and drop a small amount of boiling jam on to it (a tea spoon) – put it back in the fridge for 30 seconds then remove it and push the jam with your finger, if the top wrinkles it's at setting point. If not continue cooking and testing until it works.
Pour your jam in to sterilised jars, seal and label – use within 6 months and 1 week after opening.
---
Looking for more Knotweed Recipes?
Click here to see our full list
Everything from Japanese Knotweed Salmon with a knotweed salad, Knotweed rice noodles, knotweed curd with afternoon tea and the list goes on and on.
If you'd like to see your recipe for japanese knotweed highlighted then let us know, please send us the recipe – in the same format as above – and a nice image and we'll look to get it into the database with all link to yourself of course.