This Rose and Chaga Coconut Macaroons recipe is reminiscent of a heady summer day, these sweet treats are floral and earthy at the same time.  I can't claim that this is a healthy snack, but the health benefits of both Rose and Chaga are well documented.
Rose petals are mildly sedative, antiseptic, anti-inflammatory and anti-parasitic.  They're also mildly laxative, a good support tonic for the heart and can lower cholesterol.  They're a nervine which means they soothe and calm the nervous system, easing tension and pain.  Rose has a long history of ritual use and has deep connections to the divine feminine as the petals were used to bring on delayed menstruation and tone the uterus.  Because of their anti-septic nature, Rose petals are an excellent treatment externally applied, for wounds, bruises, cuts and rashes.
Chaga has been used and revered for thousands of years.  In Estonian folklore it is known as the protector of steady minds and is a well known healer and health booster across the northern hemisphere, supporting the immune system and protecting against oxidative damage by those pesky free radicals!
With all those benefits, why wouldn't you want to indulge in this sweet.  
---
Ingredients to make Rose and Chaga Coconut Macaroons
Macaroons
1tbsp powdered rose petals, (I collect and dry the larger Rugosa rose petals during the summer and store them but you can buy dried organic rose petals online and they taste very similar. The main thing to remember is to use rose petals that have a strong fragrance, otherwise you won't be able to taste them
140g cooked mashed white potatoes, (yes you really are reading that ingredient correctly)

480g icing sugar
1 heaped tbsp of desiccated coconut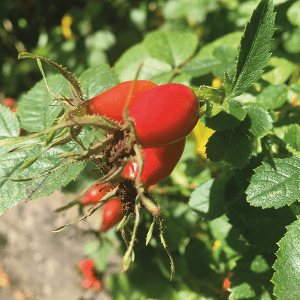 ---
Coating
250g of white or dark chocolate, (whichever you prefer)

1 tbsp of powdered Chaga, (this is readily available to buy at health stores or online)
180g of desiccated coconut
---
Method
Combine around a quarter of the icing sugar with the mashed potato and mix well.  At this point it will be a soft and runny mixture.  Now add the tablespoon of coconut and mix well.

Continue adding the icing sugar, mixing in a little at a time until it's all been incorporated.  The mixture will become very stiff.
Line a tray with baking paper and transfer the mixture to it, smoothing it out to the sides. Place the tray into the freezer for a couple of hours.
Remove from freezer and cut into bite size bars-they will be super sweet so not something to be consumed in large quantities.
Place the cut bars back into the freezer whilst you prepare the coating.
Gently toast half of the coconut in a pan or the oven until golden brown.  Combine with the rest of the coconut.
Break the chocolate into pieces and place in a bowl over a pan of simmering water.  Stir gently until melted then add the tablespoon of Chaga powder.
Remove the bars from the freezer and dip into the chocolate and then into the coconut until well coated.  Place each dipped bar onto a sheet of baking parchment to set.
Once the chocolate coating has set, store the bars in a sealed container and either refrigerate or keep in a cool place.