In this Dandelion Root Peshwari Naan recipe, where the Dandelion roots are notoriously bitter tasting things, but it's quite amazing what a transformation happens upon applying a little heat to the situation. 
The texture of the Dandelion root is very similar to coconut, which is what gave me the idea for our Dandelion root "peshwari naan".  Far more sustainable & costing only the effort of digging it up & washing it, this recipe is simple & easy to make, gifting us all the health benefits of this wonderful plant.
---
Basic Naan Bread Recipe
Ingredients For Your Dandelion Root Peshwari Naan dough
250g of flour, either plain, self-raising or strong flour will do.  If you want a gluten free option then ideally a self-raising gluten free blend, either shop bought or one you've blended yourself.

2 teaspoons of sugar
½ a teaspoon of salt
½ a teaspoon of baking powder
100ml of oat milk
2 tablespoons of plain soy yoghurt.  If you haven't got any yoghurt, increase the oat milk to 120mls
2 tablespoons of oil
Optional extras include a teaspoon of Alexander seeds, Nigella seeds, (also known as black onion seeds), Ground Elder seeds, (which are widely used in Indian cooking), or some Poppy or Sesame seeds.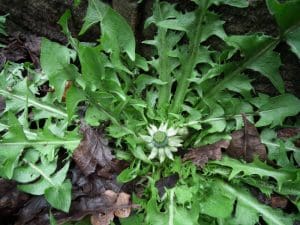 ---
Equipment
A large bowl to mix it all in.

A rolling pin or a glass bottle for rolling out your dough
---
Method
Mix the dry ingredients including any additional seeds or spices. 

Make a well in the centre of the dry ingredients & add the wet ingredients.
Using your hand like a paddle, fold the dry ingredients into the wet, moving around the outside of the bowl, until you've formed a soft sticky dough.
Knead the dough well for 8 to 10 minutes until smooth. This will not be necessary if you are using gluten free flour.
Cover the bowl with a damp cloth or plastic bag & leave to rest for an hour.
After the dough has rested, divide it into 5 roughly equal sized portions
Pre heat your grill to medium & place a heavy baking sheet or baking stone, on the upper shelf to heat.
On a lightly floured surface, roll out your dough balls quite thinly.
Place onto the hot sheet or stone until lightly browned, flip over & repeat on the other side.
Brush with warmed flavoured oil & serve immediately.
---
Now for the interesting bits!
A Few Notes on Digging Your Dandelion Roots.
Make sure you choose a mature plant with plenty of leaves, to ensure thick enough roots.  Don't discard the leaves, you can use them to make a delicious garlicky pesto naan stuffing.
You will need a fork to dig the roots up & the easiest way to do this is to gather all the leaves into your hand, (a bit like you would for putting your hair into a ponytail), then dig deep into the ground, around the root first. This should have loosened things off considerably & you can gently pull as much of the root out as you can.
I would advise you to tap as much of the soil off the root as possible, before taking it home to wash.
---
Dandelion Root "Peshwari" Filling
Ingredients
The roots of one large Dandelion, approximately 50 to 70g in weight, thoroughly scrubbed clean & blitzed in a blender/herb grinder or very finely chopped & bashed.

60g of blitzed or very finely chopped nuts, (any type will do, but the favoured choice for most Indian restaurants tends to be pistachio or almond).

40g of raisins/sultanas/dates/figs or any other dried fruit you might have hanging around the kitchen.

3 teaspoons of sugar.  I used coconut but any will do really.
---
Equipment
A food processor/herb grinder
If you don't have a processor for blitzing then you'll have to do it the old fashioned way & use a very sharp knife to chop as finely as possible, & finish off by bashing everything in a large bowl, like you would if you had a pestle & mortar.
---
Method
Combine all of your blitzed/pounded & chopped ingredients together in a bowl.

Spoon equal portions of the mixture onto one half of your rolled out naans.  Fold over the dough to cover the filling, seal with your fingers & roll the dough flat again.
Bake as for the basic naan recipe