This simple vinegar preservation of Pickled Wild Garlic doesn't take away from the perfect wild garlic flavour that we love and once made a teaspoon of pickled garlic can be used in almost any dish.
Makes 1 Jar (of your choosing)
---
Ingredients for making Pickled Wild Garlic:
–              Wild Garlic
–              White wine vinegar
–              A little sugar
–              A little salt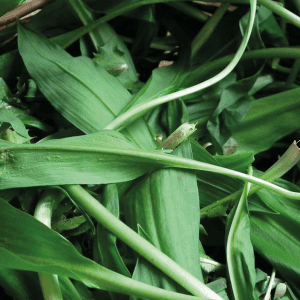 ---
Method:
–              Finely Chop your wild garlic
–              If you have a food processor, quickly blitz the garlic until finely chopped (you don't want a mush)
–              Get a sterilised or well washed jar and fill it with your chopped wild garlic until it's loosely packed.
–              Pour in the white wine vinegar, stirring the contents to remove any bubbles, until the vinegar covers the garlic.
–              Screw on the lid and use whenever a recipe calls for garlic; keep for up to 1yr.
---
Ultimately you can use wild garlic in a huge range of different recipes, The Key to Cooking with wild garlic is to add it at the end of the cooking, for example, if I pop it in chilli, I'd cook the chilli, turn off the gas hob and then stir in the chopped wild garlic with the hob off and let the residual heat soften it before serving. It will stay super fresh and keep a lovely crisp garlic kick 🙂
Wild Garlic (Allium Ursinum) Identification