Wild Garlic Mayonaise
This chunky Wild Garlic Mayonaise is brilliant for those nights when you're having a pickin' mix of foods that a perfect for dipping. It can be made at the start of the week and used in every way you'd use more common mayonnaise, obviously, the ratios can be changed to your liking but this is how I like to make it, if you want a quick fix simply add the wild garlic and nuts to a ready-made mayonnaise.
Makes 600ml mayonnaise
---
Ingredients:
–              4 Eggs Yolks – white removed
–              500ml veg oil, either sunflower or rapeseed
–              1tblsp white wine vinegar
–              50g wild garlic stems and leaves, finely chopped
–              50g pine nuts – roughly chopped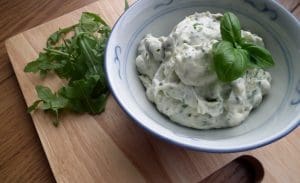 ---
Method:
–              Separate your egg yolks from the whites and get rid of the white or keep it for another recipe.
–              Put the egg yolks in a large bowl, add the white wine vinegar and begin to whisk
–              Slowly add the oil a little at a time and whisk thoroughly, in between adding a little more.
–              It will begin emulsify, resembling more regular mayonnaise (3 minutes)
–              Stop whisking and turn to a large spoon, folding in the wild garlic stems and pine nuts
–              Enjoy in fajita wraps, with chips or even battered hogweed stems.
---
Ultimately you can use wild garlic in a huge range of different recipes, The Key to Cooking with wild garlic is to add it at the end of the cooking, for example, if I pop it in chilli, I'd cook the chilli, turn off the gas hob and then stir in the chopped wild garlic with the hob off and let the residual heat soften it before serving. It will stay super fresh and keep a lovely crisp garlic kick 🙂
Wild Garlic (Allium Ursinum) Identification