Winter Chanterelle/Autumn/Winter/Edible
Scientific Name
Craterellus Tubaeformis
---
Common Names
Winter Chanterelle, Trumpet chanterelle, Yellow Foot
---
Family
Cantharellaceae
---
Habitat
Not too common but can be found in quite large numbers. A delicious wintertime mushroom, most often found growing with beech or birch and quite often in mossy areas. They do also appear in evergreen forests.
---
Description
An easy to identify and delicious mushroom, related to the famous Girolle.
---
Identifying Features:
Cap:
When young they are convex with a slight depression towards the centre, becoming more funnel-shaped with age. The central depression often runs down into the hollow stem.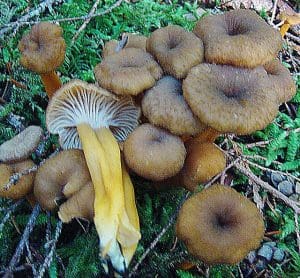 ---
Stem:
Yellow, hollow quite often 'split' in two. Almost cylindrical but irregular in shape.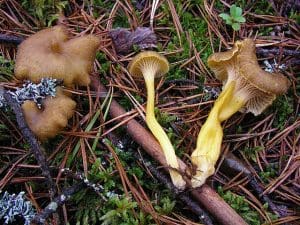 ---
Gills:
Does not have true gills, they are more like folds or ridges. The gill like ridges run partway down the stem and are pale yellow in colour, branched and shallow/ridges/folds.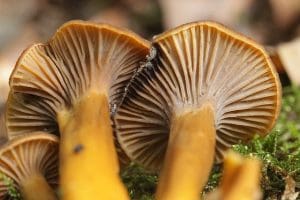 ---
Smell:
Slightly sweet.
---
Spores:
Whitish.
---
Uses
In food
A true gourmet mushroom, they work well in any dish. They work particularly well in pasta dishes.
---
Harvesting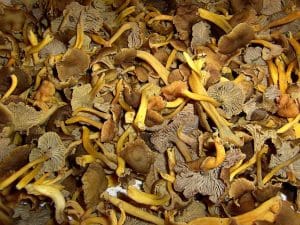 Only take the larger specimens and leave the smaller ones to grow, they are an occasional find but do often appear in large groups.
---
Known hazards
None known.
---
Potential lookalikes
The Jelly Baby (Leotia Lubrica) looks similar but lacks any gills and isn't trumpet-shaped, it's more like a 'blob' on a stem.
Other chanterelles but these are all edible.