Common Earthball / Summer/ Autumn / Toxic
Scientific Name
Scleroderma Citrinum
---
Common Names
Common Earthball, Poison Puffball, Scaly Earthball, Pigskin Puffball, Woodland Potatoes.
---
Family
Sclerodermataceae
---
Habitat
They can be found in most woods, on heathland and sometimes in short grass.
---
Description 
The most common Earthball found in the UK, often mistaken for Puffballs or Truffles, there are conflicting reports about its edibility, we consider them toxic.
Out of interest and intrigue, one of our foragers actually personally trialled the edibility of this mushroom with a friend, one of them was fine and really enjoyed the mushroom, the other was violently sick after 20 minutes.
---
Identifying Features:
Cap:
No obvious cap, they are generally spherical or potato-shaped. The colour ranges from tan to brown with a darker wart-like surface. They have thick leathery skin (peridium). Inside there is a mass of purple to brown spores, although when very young they are much paler and are almost white inside, at this stage they can look a little like an edible Puffball.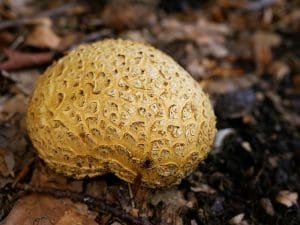 ---
Stem:
No real stem, but there may be some mycelium threads running into the soil.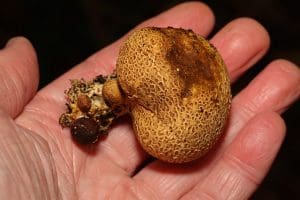 ---
Gills:
No gills, this mushroom is one of the gasteromycetes or stomach fungi, the spores for these species are produced inside the fruiting body and when ready a small slit will appear on the top, then every time a raindrop or animal touches the mushroom clouds of spores are released.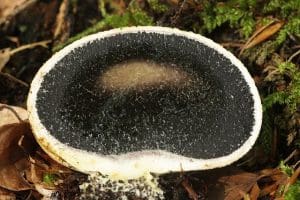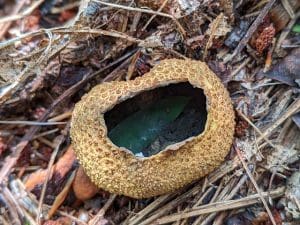 ---
Smell:
An unpleasant chemical smell, a bit like rubber.
---
Spores:
Brown.
---
Known hazards
There are reports of them being eaten in parts of Eastern Europe but we consider them to be a toxic species. They have been known to cause gastrointestinal issues in humans and animals.
---
Potential lookalikes
Other Earthballs, the Leopard Earthball (Scleroderma Areolatum) and the Scaly Earthball (Scleroderma Verrucosum) do like quite similar but all three are considered toxic so should all be avoided.
They are often mistaken for the Common Puffball (Lycoperdon Perlatum) but Puffballs are generally lighter in colour, have much softer flesh and when they are cut in half they should be pure white inside with no discolouration.
---
Extra Notes
Common Earthballs are closely related to the Boletes but they do also get parasitised by the Parasitic Bolete (Pseudoboletus Parasiticus) they are a relatively rare find in the UK but they are an edible species.