Wild Garlic Season is one of the highlights of the year, this wild garlic pesto recipe is one of the quickest and easiest ways to utilise the flavour of wild garlic.
Even better, it can be popped in little tubs, an ice cube tray or little bags and frozen to use later in the year.
Our Foraging guide for Wild Garlic can be found here
---
Ingredients:
2 handfuls of fresh wild garlic leaves
100 ml extra virgin olive oil
50 gr or pine nuts, cashews or sunflower seeds
50 gr ground hard cheese
salt and pepper to taste
---
Method
The pesto can be made in a hundred ways but I prefer to make it in a pestle and mortar as it adds a bit more texture to the pesto, if you prefer yours a little more smooth or fine it can be done in a blender.
Forage some super fresh Wild Garlic, Leaves & Stalks, Flowers – it's all good
Roughly tear the wild garlic leaves & pop in a pestle & mortar – grind a little to bruise the leaves
add all the rest of your ingredients & pound in the pestle and mortar for a minute or so to soften everything up
season with salt and pepper and give it a quick stir – Taste it and you can add more of anything you think it may need more of to your flavour.
Keep in the fridge and use within 5 days
Or freeze and use within 3 months.
That's it – some of the season's best wild garlic pesto at your disposal.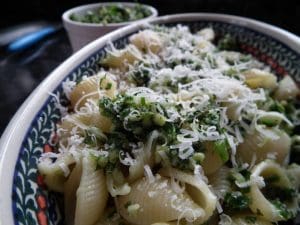 ---
What to do with the rest of your wild garlic?