This Plantain Seed, Mugwort and Garlic Crackers Recipe is a surprising way to use up the wild flavours of plantain when in seed as well as the not often used mugwort.
The flower heads of Ribwort Plantain are very similar to psyllium husk & have a delicious nutty flavour. This is such a wonderful plant. Not only is it a delicious source if food, it's also soothing, calming, relaxing & restorative.  Ribwort Plantain was also thought to have magical powers of divination and is also used in ritual to create boundaries, keeping negative energies out & allowing positive energies to flow.
Mugwort, an ancient herb, is dedicated to the Goddess Artemis, the patron of women & protector during childbirth, wild nature, hunting & chastity. With a reputation for aligning the menstrual cycles with the Moon, uplifting the mood, relieving tension & soothing frayed nerves, relaxing the nervous system & promoting restful sleep, this is a powerful herb indeed.  As well as being steeped in ritual and folklore, Mugwort is a delicious aromatic, with a flavour reminiscent of Sage making it the perfect ingredient these crackers.
Food is medicine indeed, with these two magical plants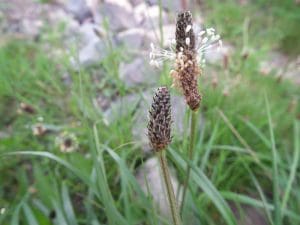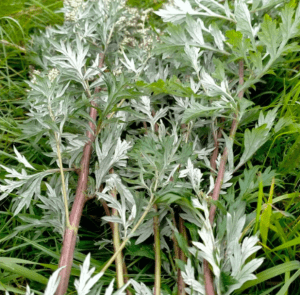 ---
Ingredients for Plantain Seed, Mugwort and Garlic Crackers
 

25 seed heads of Plantain, (which is about a quarter of a cup), broken apart

1 ½ cups of plain flour.
1 large clove of crushed garlic
1 tsp salt
1 tsp of sugar
¼ of a cup of  dried finely chopped Mugwort flowers and leaves
2 tbsp of olive oil
½ a cup of water
Poppy/sesame seeds for sprinkling, (optional).
---
Equipment 
 Large mixing bowl 
 Rolling pin 
 Two baking sheets 
 Baking paper 
 Sharp knife or pastry cutter  
---
Method 
 

Preheat the oven to 180 degrees Celsius/gas 5.  Cut two sheets of baking paper, large enough to line your baking sheets

Place all the dry ingredients into the bowl & combine, then add the olive oil & the water.
Bring the dough together with your hands.  It should be moist, but not too sticky.
Divide your dough into 2 roughly equal sized pieces & roll the first one out on one of the sheets of baking paper, making sure to lightly dust the sheet with flour first.  It's really important that you roll the dough out as thinly as you possibly can otherwise you'll end up with crackers that are more like bits of cardboard, as opposed to nice crispy bites!
Transfer to the baking sheet whilst still on the baking paper & then cut out cracker sized squares.  Separate the squares so that they aren't touching & prick with a fork to stop them puffing up during baking.  Brush lightly with some water & sprinkle with sea salt & seeds if desired.
Bake in the oven for about 10 minutes.  Allow to cool completely before eating!
Recipe credit: to Forager Vicky who you can find at  @thelittleforagerskitchen