This Linden Blossom Jam recipe is a fantastic way to create a preserve out of a super seasonal ingredient which we can use over the rest of the year.
Collect your blossoms/plant material the day before you want to make the preserve. If using blossoms place in a jug, the day before, in alternate layers with the sugar to allow optimum infusion.   
---
Ingredients to make Linden Blossom Jam  
2 cups of Lime/Linden blossoms, leaf bracts removed

1 ½ cups of water
3 tablespoons of lemon juice
2 cups of jam sugar, (make sure it has added pectin).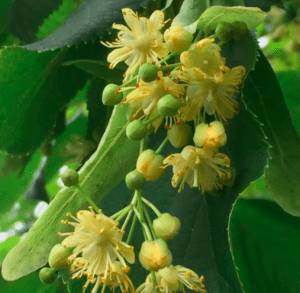 ---
Equipment 
 1 medium saucepan      
  1 jug
  A couple of sterilised jars. 
---
Method 
Place all your ingredients into a saucepan & heat gently until all of the sugar has melted.  Bring the pan to a gentle rolling boil & continue heating until the setting point is reached which is 105 degrees Celsius.  This usually takes about 10 minutes.  If you don't have a thermometer you can drop a blob onto a plate which has been in the fridge & if it's ready the mixture will crinkle on the surface when you push it with a spoon.

Allow to cool slightly then pour into your jars.  Should keep well for up to a year.
You can use this recipes with any type of edible blossom.
Recipe credit for Forager Vicky who you can find at @thelittleforagerskitchen