This Jelly Ear Stir Fry recipe is one of those incredibly Moorish dinners that you can whip up in just 10 minutes. If you were to head out grab some fresh Jelly Ear mushrooms you could go from tree to dinner in 20 minutes!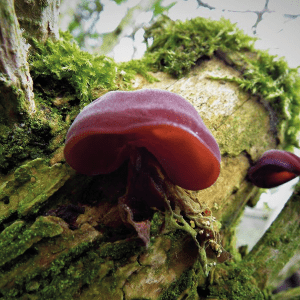 Click here for our guide on foraging Jelly Ears 
---
Ingredients
1 tbsp rapeseed oil
3 cloves garlic peeled and finely chopped
1 tsp ginger fresh grated (or ½ teaspoon ground dried)
1/2 tsp Chili paste
A good handful of Jelly ear mushrooms (rehydrated, washed and stems removed and chopped in bite sized pieces)
2 tbsp soy sauce
1 tablespoon  rice wine Vinegar
1 tsp sugar
1 tsp sesame oil
400g Cooked rice noodles
100g chopped sea beet (or kale or spinach)
For Garnish
4 spring onions diced for garnish
Some Edible Wild Flowers
---
Method for cooking our Jelly Ear Stir Fry
Rehydrate the Jelly Ear Mushrooms (or use fresh) and slice them finely.
Place the cooking oil in a frying pan, add in garlic, ginger and chili paste and cook for 1 minute or so.
Add in the rest of your ingredients and cook for a further 3 – 5 minutes until hot.
Top with green onions to garnish and serve hot with a side of rice. Enjoy!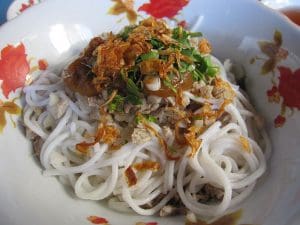 ---
Notes:
Inevitably you can substitue out plenty of the ingredients in this dish for other ingredients.
Don't want noodles – put in bean sprouts instead.
Got some carrots – slice them really finely and chuck them in
Want some extra spice? Chcuk in some grate horse radish root or cornish wild wasabi leaf or some Sea Radish Leaves