This Jelly Ear & Cherry Blossom chocolates recipe is a really exciting and exciting way to cook with wild and foraged mushrooms.
In this recipe, we're looking to utilise the ability the Jelly Ear Mushroom has to dehydrate and rehydrate really well. We will be taking the dehydrated mushroom and then bringing it back up to size with a flavoured liquid. To top it all over dip the whole thing in chocolate and what's there not to love.
I absolutely love taking these out on our autumn foraging courses as we all have this common idea that wild mushrooms can only really be used to make risotto and the like, the you whack out one of these incredible tasting sweet jelly chocolates and our mind is blown to the potential that wild mushrooms can play on our culinary palete.
---
Ingredients (to make as many sweet as you have jelly ears)
Dehydrated or well dried Jelly Ears (as many as you want to make sweets)
Cherry Blossom syrup (boil as much cherry blossom as possible in water for 5 minutes, strain and add equal amounts of sugar to the water by weight) – enough to cover the jelly ears
dark chocolate – enough to coat the jelly ears you have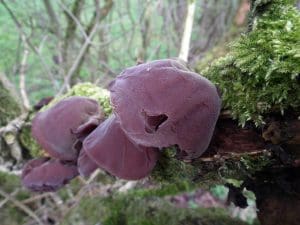 Click here for our guide to safely Identify Jelly Ear Mushrooms
---
Method for Jelly Ear & Cherry Blossom Chocolates
Place your dried jelly ears in a bowl & pour in the cherry syrup to cover them
Leave them overnight to hydrate fully (if you're impatient like me pop them in the microwave on defrost for 5 minutes then leave for 15 and they'll almost be fully hydrated)
Pop the nicely hydrated jelly ears on a plate lined with none stick parchment / baking paper and place in the fridge or freezer for an hour (we want them super cold so the melted chocolate will go hard on them)
put the dark chocolate in a bowl and place in the microwave on defrost or low until melted
remove the jelly ears from the fridge or freezer and pour the melted chocolate over each one – you can make it in to one big jelly ear chocolate bar or cover each individual mushroom – it's up to you.
Pop back in the fridge to let the chocolate go hard and then enjoy
Tip – you can also freeze them after to make a frozen jelly chocolate sweet
Tip 2 – you can inevitably do this with any flavoured syrup, cordial or juice – think rose water sweet like Turkish delights or Ribena sweets – the possibilities are endless.