This Japanese knotweed noodle dish is an incredibly Moorish recipe and what a fantastic way to do our bit and help keep an incredibly invasive species at bay, whilst enjoying a top-notch meal.
To make enough to feed 2 people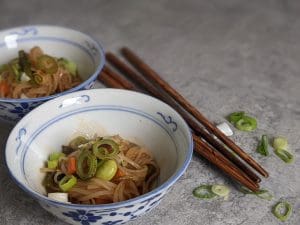 ---
Ingredients
2 stalks japanese knotweed, slice across to make circles of knotweed
100g dried rice noodles (I like 3mm but choose the thickness you like)
1tbsp soy sauce
1tbsp kimchi (use your favourite but we love the wild garlic kimchi from kimchi radish in London)
1 small shallow – diced
2 mushrooms – diced (Oyster works well but button mushroom are fine too)
50g Edemame Beans
Some spring onions & knotweed for garnish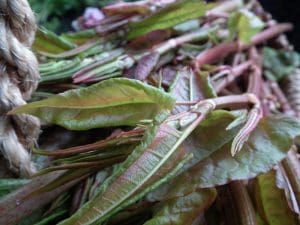 ---
Method
Pop the noodles in a jug and top up with boiling water (approximately 500 – 700ml to cover them and leave for 5 minutes to hydrate
Fry off the Mushrooms & onion in a pan for 3 minutes with a little oil
Add in the hydrated noodles and the liquid from them also
Chuck in the rest of the ingreients until warm (a couple of minutes)
top with some raw knotweed slices and some spring onions diced and enjoy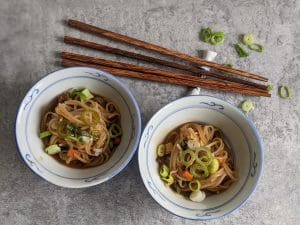 ---
Looking for more Knotweed Recipes?
Click here to see our full list
Everything from Japanese Knotweed Salmon with a knotweed salad, Knotweed rice noodles, knotweed curd with afternoon tea and the list goes on and on.
If you'd like to see your recipe for japanese knotweed highlighted then let us know, please send us the recipe – in the same format as above – and a nice image and we'll look to get it into the database with all link to yourself of course.