Through this guide we're going to take a look through the potential for Lacto Fermnting Wild Ingredients. The possibilities are endless and once you get started it just gets more exciting.
When we begin to start foraging we find one or two exciting wild ingredients and try every recipe we can think of with those ingredients. After that we work through the year to try and add 1 or 2 new ingredients per month, and once we build up a really nice catalogue of wild ingredients the possibilities becoming ever growing. Lacto fermentation is just one great example of that, everything that's edible, in essence can be lacto fermented with varying results, quite often you have to just give it a go to see whether you like it or not. This means lots of jars bubbling away – you'll be looking like a mad scientist in no time!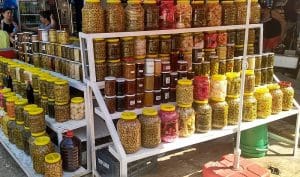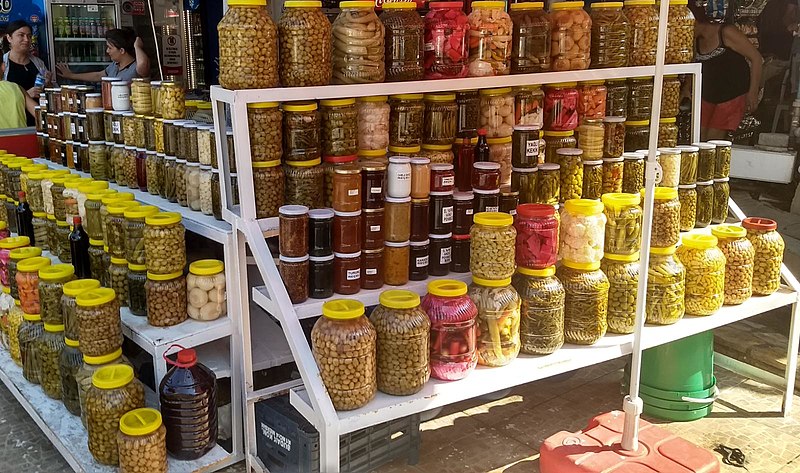 ---
What is Lacto Fermentation?
Lacto fermentation is the process of fermenting, typically vegetables, in an anaerobic & salted environment.
I've popped a lovely link in the reference section at the bottom to get some serious detail about Lacto fermentation.
This simply means not allowing air to touch the vegetables and keeping the vegetables within a salted liquid.
The salted liquid can either be the liquid that comes out of the vegetables themselves or can come from brine or a mixture of salt and water that you pour over the vegetables themselves.
Salt:
For Lacto fermentation we use either sea salt or rock salt, I often use coarse salt if I'm trying to break something down – like the wild garlic leaf and fine with a crunch vegetable I want to hold its shape like thistle hearts or burdock roots.
The volume of salt is typically somewhere between 1 – 10%, 1% to 10% is quite a big difference and it depends on what you're trying to achieve.
1% salt will ferment really quickly and is good if you want to:
eat the whole lot quicker,
the lower level of salt is good for sauces as it won't keep your veg crispy either.
10% – you can keep going with the salt but it becomes uneatable after 10% – I usually use higher salt percentages when:
I want to keep vegetables more crunchy – like burdock roots
The vegetables I'm using have a tendency for going off
I'm trying to store them for a long time (maybe the next season is a long way away – like wild garlic)
I want to promote a slow fermentation
I'm planning to use the finished result for more of a stock instead of eating it straight out of the jar.
Water
Try to use spring water where you can but tap water will work also (if it's high in chlorine leave it to stand in an open bowl for at least 1 hour before using it – to allow the chlorine to evaporate)
What's Lacto bactillia?
There's a much more complex process than the one I'm just about to describe with many different things going on but I'm going to keep it simple here.
The salt stops the bad bacteria from developing and allows the good bacteria or the bacteria we're after, to grow and develop.
This good bacteria outcompete the bad and is allowed to grow, helping to preserve the item and giving us some gut-boosting properties too,
---
A Basic Recipe for Lacto Fermnting Wild Ingredients:
You can, of course, play around with this recipe – I actually advise you do 🙂 Some things may benefit from a little more or a little less salt, or from being fermented for 1 day or for 2 weeks. Fermentation is a big journey for us to join and play around in.
---
Ingredients:
We're using around 4-5% salt for this one as it's the middle ground for salt content on lacto fermentation, certain items you want to keep and store for longer will benefit from a higher amount of salt – up to 8%.
500g Wild Garlic
30g Sea Salt
---
Method:
Chop the Wild Ingredients u (or blitz in a blender until smooth) – It depends if you want chunky crunchy pickles or a pickle style paste to add to stock etc
Pop the Wild Ingredients in a bowl and stir through the salt
Pop the whole lot in a jar or a number of jars and cover the top with a bit of cloth – leave it at room temp for about 5 days
After 5 days pop it in the fridge and enjoy as a side to food
That's it we have a basic lacto ferment on the go – it's time to play and explore.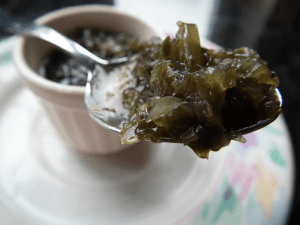 ---
References: