Through this piece we're going to join Forager Jane on discovering the ins and outs of Coastal Foraging in Norfolk.
We need to be mindful Foragers when Coastal Foraging in Norfolk
If the North Norfolk Coast was a parcel it would come with big red labels, saying, "Fragile", "Handle with Care", "Do not shake" and I certainly wouldn't trust it with an everyday parcel delivery company.  Of course you couldn't fit the North Norfolk Coast in a box but it does come with virtual labels, which are visible on a map showing important designated areas, such as the MAGIC map available on the DEFRA website (https://magic.defra.gov.uk/magicmap.aspx).  When you open this map and specify that you want to see designated areas, the North Norfolk coast is shaded in green representing a Site of Special Scientific Interest (SSSI) and the rest of North Norfolk is outlined in red defining an Area of Outstanding Natural Beauty.  The coastline is also an internationally recognised Ramsar Site, represented by the grey hatched lines.
These designations are put in place to protect the unique wetland ecosystems that provide a home for the communities of many rare and threatened invertebrates, plants, birds and mammals.
As part of the Totally Wild UK team of professional foragers I do spend some time within the SSSI, leading groups of budding foragers onto sea walls, along the fringes of marshland, across successional dunes and sometimes into woodlands edging the dunes and marshes.  We also venture inland onto public footpaths following hedgerows and arable field margins, where most of our wild harvesting is done.  This is because there are a limited number of edible species to be found on the salt marsh so by including more inland species a greater quantity and variety of flavours and nutrients can be found.  But also because the saltmarsh habitat is fragile and contains many important protected species so there is a limit to what we can take.
Technically that limit is ZERO because of the designated status of the North Norfolk Coast, but on the Natural England website they say that they recognise people's common rights as part of the cultural heritage of the area and activities such as foraging, if carried out using traditional, sustainable methods, should not have a negative impact on the integrity of the ecosystem.  As a local I am lucky enough to have foraging rights conferred on me by my next-door-neighbour who has Common Rights bequeathed to him by his parents and grandparents.  Even so, I limit my wild harvesting on the marshlands to the minimum.  
If you step off the sea wall or coastal paths and into the tidal reaches of the muddy and creek-riddled marshes there is a mosaic of plant species with different preferences for the varying soil and water conditions.  Some like their roots briefly washed by the sea a couple of times a day while others thrive best with two good soakings a day.
At the highest reaches of marshland – the high tide mark – you often find Shrubby Sea Blite, which the chefs refer to as sea rosemary – more for its appearance than its taste.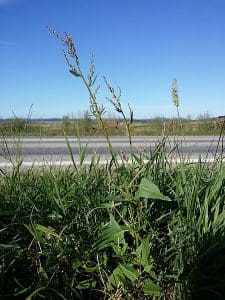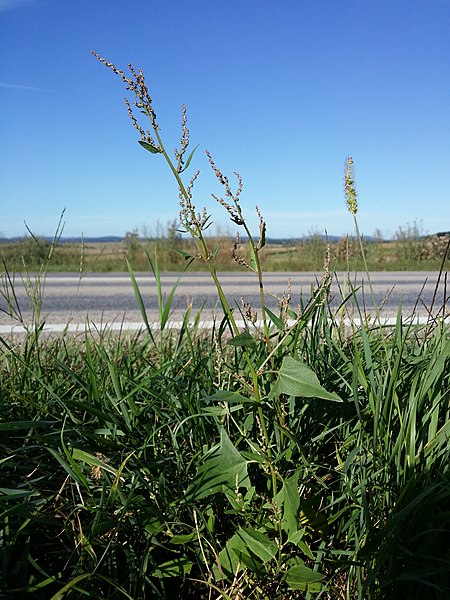 ---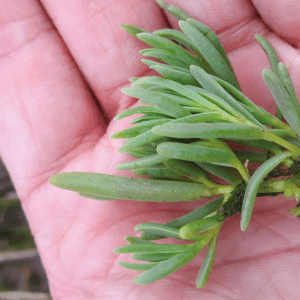 It's a shrub, up to about 1 – 1.5m tall and its branches have small (1cm long and 2mm wide), needle-like projections.  It is said to be evergreen but it often loses most of its needles over the winter. In some places the Shrubby Sea Blite forms a continuous border to the marsh which can be difficult to get through.  You spot a rabbit or deer path through the shrubby barrier and follow it for a few feet, only to be met by a tangle of impenetrable branches.  Shrubby Sea Blite is a great place for birds to perch and watch the tide come in and laugh at frustrated foragers trapped in its maize; and for rabbits and deer to hide from dogs, tourists, Marsh Harriers and Red Kite.  The top 5cm of the branches can be snipped off and used as a herb, adding a salty crunch to any dish.
If you make it through the Shrubby Sea Blite maize, one of the first plants you'll see is Sea Purslane, which forms part of the patchwork blanket of vegetation between the low and high tide mark.  
---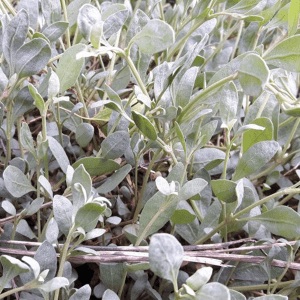 Sea Purslane is an architect of its environment.  It produces better leaves on well drained, higher ground, where it is covered by the tide for shorter periods.  It has a flexible woody stem so gives you a spring in your step as you walk across it.  As the tide comes in, bringing nutrients and silt, it traps the silt in its stems, causing a rise in the ground level.  
As it prefers higher ground this rise suits Sea Purslane's requirements well and it continues to flourish and spread.    As the Sea Purslane spreads, it obscures the narrower creeks which wind their way through the marsh.  So, bouncing along on the springy carpet of Sea Purslane can easily result in you stepping into a three foot deep creek if you don't watch where you're going.
Sea Purslane is a favourite of most groups of foragers I take onto the marsh.  And quite rightly so –it is a source of natural salt and brimming with Omega 3.  I often catch members of my groups snacking on its silvery-green, elliptical leaves as we traverse the edges of the marsh.  Sea Purslane is great sprinkled on salads or soups, or added to stir fries and sauces to add a salty crunch.  It is also a favourite of rare finches such as the Twite and Corn Bunting who feast on its seeds throughout the winter.  While it does benefit from light pruning Sea Purslane will die back if too much is taken.  
---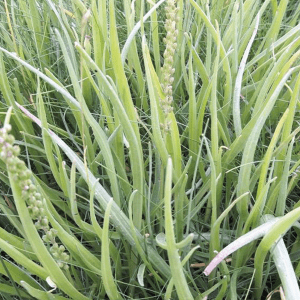 Early in the spring I can often be seen in the grassy patches between the carpets of sea purslane, sampling blades of grass – mostly nibbling the bottom end of the blade then spitting it out.  What I'm looking for is Sea Arrowgrass, also called Sea Coriander which tastes of …… Coriander!  
You can add it to salads for a spicy twist or use it in casseroles, curries, soups – wherever coriander is called for.  
It often grows in clumps or donut shaped patches and also around the edges of little salty pools and shallow creeks.  
The edible part is the pale part of the stem, about 2 inches in length at the base of the leaf going into the ground.  Moving up the plant into the green leaf there is hydrocyanic acid which interferes with the oxygen uptake of your body.
Further out, toward the low tide mark, pioneer species are in constant battle with the sea's erosive power.  Samphire and Sea Aster spread their range incrementally as they colonise the mud and claim the area as land.  They stabilise the mud with their roots and their decay at the end of the summer provides nutrients, initiating the formation of soil for later successional species.  The resilience of these plants to a constantly changing, salty environment strengthens the power of the nutrients they build into their structure.  
---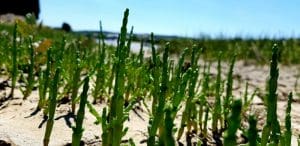 The nutritional value of samphire is impressive; it has almost no fat and is packed with the essential minerals – magnesium, potassium, calcium and sodium as well as a healthy dose of dietary fibre and vitamins A, B and C. 
Traditionally the stems of samphire are simmered for up to 15 minutes then coated with either melted butter or vinegar (which can be used to pickle them too).  The ends of the stem are held and the flesh dragged off the woody stem through the teeth, bathing the taste buds in an intense, salty juice.  A less traditional (and less messy) approach is to bend the stems until they snap, just above the top of the woody stem and use the tops as a bed or garnish for your sea food speciality.  I suppose you could still use the bottoms of the stems in the traditional way…..
---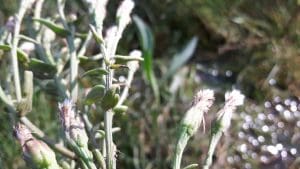 Sea Aster is rich in Vitamins A, C and D and iron making this plant great for all round nutrition.  Its leaves have a fleshy bite and a salty yet sweet flavour – less intensely salty than samphire.  They can be added in to stir fries or used as a vegetable accompaniment to any meal.
Not to be confused with Sea Lavender which has very similar shaped leaves but they are less fleshy and don't grow as big as the leaves of Sea Aster.  They're not poisonous but have a less pleasant fishy taste.
---
This is a member of the same family as samphire – the Goosefoot family.  It often grows close to samphire but can also be found in drier parts of the marsh.  It gives a red tinge to the marsh where it grows as its flowers, and often the stems and leaves too, are red.  The leaves and flowers are separate and similar to the Shrubby Sea Blite, rather than fused into branching segments like samphire. It grows 30 to 60cm tall and is salty and succulent like samphire but has no woody stem.  This is great to add to salads or use as a base for seafood dishes in place of rice or pasta.
https://commons.wikimedia.org/wiki/File:Sea_blite_near_Grainthorpe_Haven_-_geograph.org.uk_-_3045957.jpg
Samphire and Sea Aster dwell in the muddiest mud I have known.  It's not like quicksand because (I think) there is a bottom to it but I have lost at least one pair of sandals and one pair of wellington boots in pursuit of a succulent cluster of Sea Aster before today.  
So be very wary, particularly when crossing the wider creeks. Some have a sandy bottom covered with a few inches of mud but you could end up thigh deep in it!  Either way, if you go out onto the marsh (and make it back) you're going to come back muddy.  
If you make it back?!  Well, that is, if you keep a good eye on the tidal cycles.  The tidal range is very big so when the tide comes in it doesn't hang about.  
Once, whilst mindfully foraging in a sustainable manner, I paused and mindfully observed how fast the water around my little island was moving.  
"!! Wait a minute!….. Island?!"  I suddenly realised I had no choice but to swim for it, towing my bag of samphire behind me.  Luckily it wasn't too far and it was June so not too cold.  It's very easy to zone out when you're foraging! so I started to set phone alarms for the time when I needed to head back in to make sure the tide didn't ever catch me out again.
Back on terra firma, back through the shrubby sea blite, up onto the sea wall or the North Norfolk Coastal path; into the transition from marshland to farmland via dunes, woodland or freshwater marsh – an ecotone.  Here you will notice the edge effect, where, as well as an intermixing of species that can move readily between both environments there are species which are specific to the habitat at the boundary between the two bordering habitats. Sea beet and Alexanders are common species at this boundary, particularly on the sea wall.  Sea beet is native to the UK and is the ancestor of sugar beet and beetroot.  It is one of the species able to co-exist with the invasive Alexanders. 
---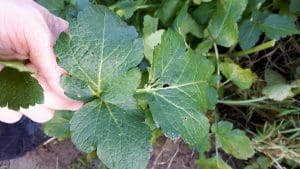 Alexanders is believed to have been brought here by the Romans from the Egyptian city of Alexandria.  They called it Parsley of Alexandria and used it as a culinary and medicinal herb.  Coming from the hotter, drier climate of the Mediterranean it has a competitive advantage over many of our more delicate species, which are crowded out by the vigorous growth of Alexanders.  The Environment Agency mow down the Alexanders on the sea wall every few weeks, taking the see beet and everything else with it.  So, they can't really complain about people foraging there!  
Alexanders is a bit of a marmite plant.  I'm not too keen on it myself but will sometimes use the stalks and young flower buds in a curry where hot spices can compete with the strong perfumy flavour.  It has vitamin C content similar to celery as well as proteins, fatty acids and carbohydrates.  It is good for cleansing the blood, the digestion and for strengthening the stomach.  
---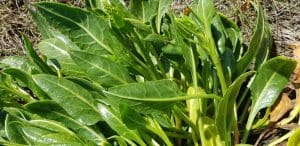 Sea beet is excellent though – very much like spinach but with a more earthy flavour.   You can cook it or use it as a salad green.  It has more iron than spinach as well as the benefits of anti-oxidants and the vigorous phyto-chemicals that wild plants have, which help promote optimal health – for themselves and for us.  Sea beet is available all year round, though its growth is less vigorous in winter.  If you cut it back before it flowers it grows back in the vegetative stage, ie, with bigger leaves than it has once in flower.
---
Other flavours to be found on the sea wall include: 
Common Mallow which has a very mild flavour but whose mucilaginous properties make a good base for a tonic to soothe an inflamed respiratory tract. Or put the whole plant into a blender and use it as a base for a soup or to help bind bread.
Frosted Orache – another spinach-like salad green 
Mustardy brassicas
the pepper of cress 
and the aniseed tang of Fennel
---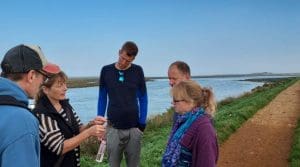 So, if you come for a forage with me on the North Norfolk coast you will almost definitely be trying Sea Beet and probably sample the Alexanders.  You won't get a full plate of succulent, salty crunchiness with the flavours provided by the ebb and flow of the tide but you will get a sample  of the earthy , spicy, tones of the sea wall, hedgerows and meadows with a tantalizing touch of the textures and salty delights offered by the tidal ranges of this beautiful, unique coastline. if you want to make a buffet meal of the marshland species you find here you should collect them from a different stretch of coastline.  The species found here can also be found in coastal ecosystems throughout the UK and north west Europe.