This Sea Bass with sea beet and marsh samphire dish was created using the Wild Veg box from Totally Wild UK, using the foraged ingredients, sea bass and a few other simple ingredients.
---
Ingredients
Knob of butter (make this recipe dairy free by substituting with dairy-free spread)
100g Girolles mushrooms (or other mushrooms)
200ml vegetable stock
A splash of birch sap wine (any white wine will do)
Small handful of fresh basil and parsley (cows parsley will work too)
A handful of sea spray leaves (optional)
2 pinches of crushed alexanders seeds (or ground black pepper)
200g sea beet leaves (or spinach)
200g marsh samphire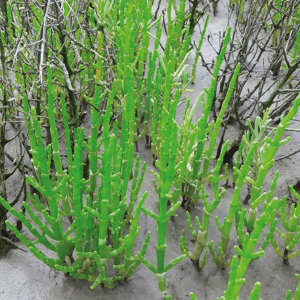 Click here to see our Marsh Samphire Foraging Guide
Click here to see our other coastal foraging guides
---
Recipe for our Sea Bass with sea beet and marsh samphire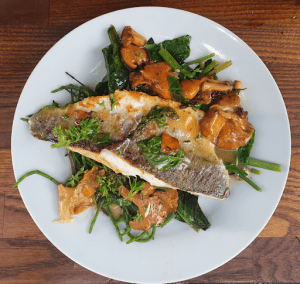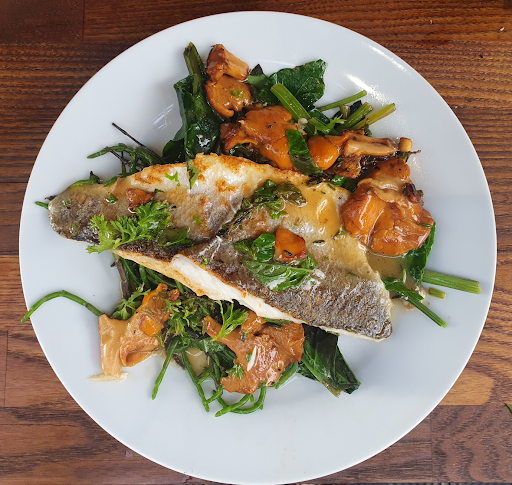 Prepare the sauce first:
Melt a knob of butter in a hot pan and fry the girolles mushrooms until they begin to brown.
Add a pinch of sea spray and a pinch of alexanders seeds and fry for another minute.
Add the vegetable stock and a splash of wine and simmer for 10 minutes to reduce.
While the sauce is reducing, Put a pan of water on to heat up.
Melt a knob of butter in another frying pan and add the fish (skin side down). Fry for a few minutes on the skin side.
Chop some fresh basil and parsley into the sauce and stir.
Put the fish into the pan with the sauce and remove from the heat.
Put the samphire into the boiling water and cook for 2 to 3 minutes.
Add a knob of butter to the pan which you cooked the fish in and add the sea beet leaves.
Fry the sea beet for a minute, then add a splash of white wine.
Time to serve:
Serve the fish on a bed of sea beet and marsh samphire and pour the girolles sauce over.
Sprinkle with more sea spray and alexanders seed to taste.
---
Why not Consider:
If you like your food with a little bit of a "kick", consider adding a few garlic mustard seeds to the sauce, or add a few young horseradish leaves with the sea beet, or both!
---
This is from Forager Gavin – who's made a video for cooking this one too 🙂