HOW TO IDENTIFY FIR, SPRUCE, AND PINE TREES
Fir, Spruce, and Pine make fine wild edibles if you know how to identify them. Edible parts include the spring growth of green tips and young cones as well as the tree pollen. From pine you can also get pine nuts but the species found in the UK produce a much smaller offering than what you can buy in the shops. (unless you know a secret spot for the large cones)

Forager Megan
In this guide 'how to tell the difference between pine fir and spruce' we'll be looking at the key features to distinguish the difference between the most common edible conifers we forage for in the wild.
The tips with their woody, citrus flavours are great for infusions like teas, syrups, flavouring alcohol, and even making beer. You can also use them fresh as a herb when cooking for roasting meats or fish or even in cocktails as a garnish. You can use them to flavour salts and sugars too. Young cones can be pickled and preserved in oils, vinegar, and alcohol for interesting additions to the dinner plate. The pollen has been used in medicinal tinctures and also as an addition to flour in baking.
Fir Trees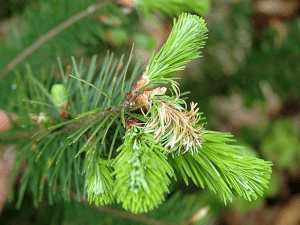 Fir tree key features
Fir trees often have a classic shape of a Christmas tree. Their branches are dense and slightly upturned.

Needles are short, soft, flat, are distributed around the stem and have a rounded edge. 

They connect to the stem by suction cup-like attachments.

The underside of the needle will have two white strips with a green line at the centre

When crushed will smell strongly resinous/ citrusy

Cones for Fir remain upright like candle flames

Can be confused for poisonous Yew but yew doesn't have the citrusy smell in its needles. Yew needles are green underneath and do not carry the hallmark white lines like Fir needles.
Spruce Tree
Spruce Tree Key Features
Branches less densely packed than a Fir

Needles are short, 4 sided with a pointed, sharp edge.

You can roll a Spruce needle in between your fingers, unlike a Fir needle.

Needles are connected to the stem by a woody attachment. If the needle is pulled from the stem the attachment remains, giving the stem a rough texture.

Cones of Spruce are long and hang down from the tree. 

Cone scales are smooth and overlapping, flexible and soft
Pine Tree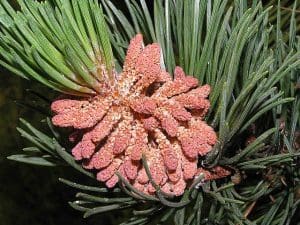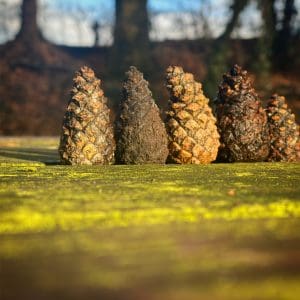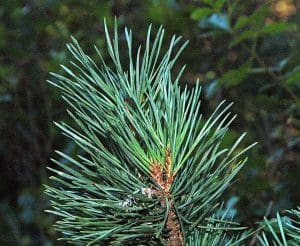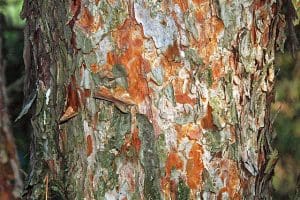 Pine Tree Key Features
Needles are long, pointed, and between 2-5 needles will come from a single point on the stem. 

Pine cones are hard and woody with larger scales than Spruce.

Clusters of male cones produce vast amounts of pollen on lower branches in spring.
For recipes on how to use fir, spruce, and pine head to our recipes page and search by wild ingredient.