Japanese Knotweed Curd Recipe
Japanese knotweed curd
This Japanese knotweed curd is smooth and velvety – it's absolutely perfect and best suited served with afternoon tea on scones. Once made it must be stored in the fridge and used with one week, but I can guarantee it won't last any longer than that.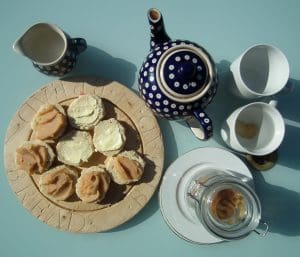 Makes 3-4 medium jars.
---
Ingredients:
500g young knotweed stems chopped
100ml water
4 large free range eggs
200 g butter
150 g caster sugar
1 table soon cornflour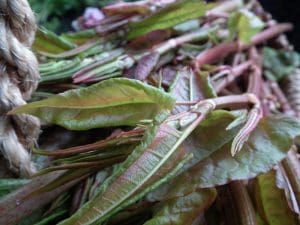 ---
Method:
Put the knotweed stems in a pan with the water and place on the heat for 15 minutes, until the knotweed is fully softened and falling apart.
Pass the knotweed juice through a muslin cloth or fine sieve, push lightly to remove the juice but not too much otherwise your juice will end up green instead of pink. Leave to cool for 30 mins.
Add all your ingredients and 250ml of the knotweed juice to a pan that is set over a very low heat. Mix thoroughly until all of the butter has melted. Leave the pan on the LOW heat and stir continuously for 10 minutes or until your mixture has reached the consistency of custard.
Sieve this mixture in to a clean bowl to remove any egg that may have scrambled.
Pour in to clean and sterile jars, keep in the fridge and use within 10days.
Best served on scones, toast or even baked in the middle of some sweet pastry.
I believe this would also make a nice cheesecake filling if made in right quantity and placed over a buttery biscuit base.