The Dandelion Coffee Panna Cotta recipe is a fancy-sounding but deceptively easy sweet to make, which should more properly be described as weed flavoured pudding! With it's spicy biscuit, reminiscent of cardamom and warm, familiar coffee notes, your family and friends will not believe these sophisticated flavours come from the gardeners' enemies Dandelion and Hogweed! I've used cherries in my compote to accompany this pud but any sweet/tart fruit compote would work well.
Click here for a Guide on Foraging Dandelion

Click here for a Guide on Foraging Hogweed

Click here for a Guide on Foraging Cherry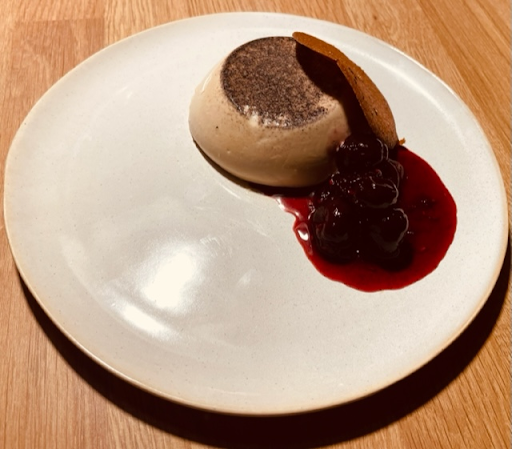 ---
Ingredients for Dandelion Coffee Panna Cotta (Serves 4)
Panna Cotta
300ml Double Cream
200ml Whole Milk
60g Golden Caster Sugar
2 Tsp Ground Dandelion Coffee
Click here to learn how to make Roasted Dandelion Root Coffee
1 Vanilla Bean, split and scraped
2 Sheets of Gelatine
Tuile Biscuits
1 Egg White
60g Golden Caster Sugar
30g Plain Flour
30g Melted Butter
2 Tsp Roasted, Ground Hogweed Seeds.
Cherry Compote
200g Stoned Cherries
2 tbsp Golden Caster Sugar
Generous squeeze of Fresh Lemon Juice
1 Tsp Vanilla Bean Paste
(Optional: Half a star anise)
---
Method for making Dandelion Coffee Panna Cotta
Warm cream, milk, sugar, vanilla and hogweed seeds together to a light simmer over a medium heat. Do not allow to boil.
Remove the creamy mixture from the heat and allow to cool slightly, at the same time soak your sheets of gelatine in cold water until pliable. (about 10 minutes)
Squeeze out your gelatine sheets and add to your warm infused cream, stir until the gelatine has dissolved, then pass through a double layer of muslin into a jug.
Pour into your individual moulds, cover with cling film and place in the fridge to set for at least 3 hours.
In the meantime make a start on your tuiles, preheat your oven to 180C/gas Mark 4.
Combine egg white and sugar in a bowl and whisk together until lightly foamy, add flour and melted butter and stir to combine.
On non-stick (not all baking paper is created equal!) baking parchment or (my preference) silicone baking sheet place 6 teaspoonfuls of the batter with ample room between, spread these into 10cm disks with a small palette knife or back of the teaspoon, then sprinkle with the toasted hogweed seed powder. Do not attempt more than this if you intend on shaping the tuiles as they harden soon after leaving the oven, you need to work incredibly quickly with asbestos hands the second they're out!
Bake for 8-10 minutes until golden brown, I like an even toasty colour all over, some prefer a pale centre with a golden ring around the edge. Either way keep a watchful eye on them, due to the high sugar content they are liable to go from golden to black quicker than you expect. When baked they can be rolled into cigar shapes or draped over a rolling pin for attractive curls, however if you want to protect your hands they do look great as flat disks. Cool on wire rack and then place in an air tight container until needed.
Repeat until you've used up all the batter.
For the compote: place all the ingredients in a small saucepan on a low heat and cook until the cherries have broken down slightly and the sauce coating them is syrupy. About 10-15 minutes on a low heat.
To assemble: You can either dip your moulds into hot water then place a plate on top and flip over to turn out your panna cottas, but it's always more fun to place upside down on the plate and run a blow torch over the mould for a few seconds, give the mould a little shake then you'll hear the panna cotta schlep out onto the plate.
Add your tuile and warm compote on the side and serve your jiggly, foraged pudding to your impressed guests!